Just under a quarter of the older students resitting their maths GCSEs achieved grades of A* to C this year, a sharp fall of 5.1 percentage points. 
In English, however, the picture is somewhat rosier: 29 per cent of learners scored a C or above, up 2.1 points from 2016.
In total, 149,537 students sat the old-style of GCSE maths exams this year; from next year pupils taking resits will sit the new, reformed style of GCSEs which are graded from 9-1 rather than A*-G, in both English and maths. 
Just 59,558 people resat GCSE English this year, a fall of more than 50 per cent on last year.
According to Mark Dawe, the boss of the AELP, these results show that "2017 should be the last year for compulsory English & Maths GCSE resits", and he urged ministers to get behind Functional Skills as a suitable alternative to system that he believes leads to "mass failure". 
"English and maths are important for the whole population but the resits policy is leading to mass failure," he said. "The government should abandon it now and instead focus on Functional Skills being a good alternative.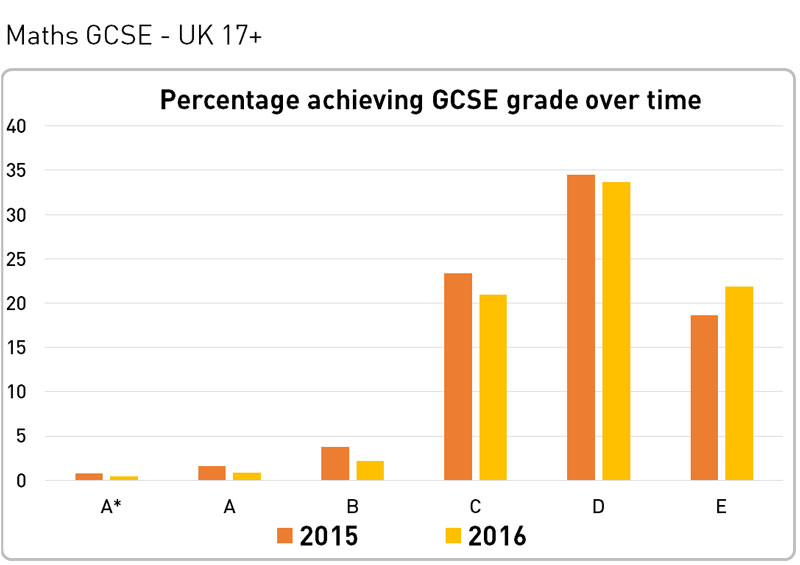 "Ministers should fund Functional Skills properly if they are genuine about the apprenticeship programme being a quality option for young people and adults."
Kirsti Lord, the deputy chief executive the AoC said English and maths are "a challenge for colleges", describing resits as "an obstacle to the ambition that we all share", but welcomed the increase in the English pass rate.
"It is disappointing that this trend didn't continue with maths," she said. "Colleges will continue to face the English and maths challenge while the government insists on 16- to 18-year-old students who haven't achieved a grade C/4 at GCSE resitting the exam. After four years of putting students through GCSE resits, colleges can confirm that the policy does not work and is an obstacle to the ambition that we all share.
"The government and educators must work together to deliver the right form of study which benefits students and sets them up with the right skills and knowledge to help in their chosen career."
Any pupils that failed to achieve at least a C in their resits will be obliged to take the exams once again due to the condition-of-funding rule for colleges. From now on, however, they will sit the reformed GCSEs, in which they will be expected to achieve a grade 4 or above – which is roughly equivalent to an old-style C grade.
This new style, said Ms Lord, "will take some time for everyone to get used to".