Members of the Sub-Committee on Education, Skills and the Economy could be forgiven for getting fruity with Robert Halfon – just over 24 hours after his apples and pears analogy for apprenticeships left MPs fuming.
The FE minister is set to face his second set of tough questions on apprenticeship reforms this week, during a House of Commons sub-committee hearing starting at 9.30am tomorrow.
Whether or not he will answer them directly, or try to "hoodwink" MPs with what Labour MP David Lammy claimed this morning was misleading rhetoric, is another matter.
The Westminster Hall debate, called after FE Week exposed funding cuts for younger apprentices in deprived areas, saw Mr Lammy claim Mr Halfon had ignored his questions on existing framework funding, and instead focused during his speech on largely untested new standards.
It came after the minister said: "The point that I'm very keen to make is that actually we are moving to a new world.
"Businesses will choose different kind of apprenticeships because of the move to standards, and would-be apprentices will choose a different kind of apprenticeship.
"So the way the discussion has gone from some of people on the benches opposite, it is as if we are comparing apples with apples. The world is changing. It is now apples with pears."
He added: "To use some frameworks as a way to say the government is not helping the poorest is entirely wrong."
The world is changing. It is now apples with pears
Mr Lammy was dismissive of these comments, pointing out the vast majority of apprenticeships remain on old frameworks.
He said: "The minister has relied on these new standards – standards that only just over 3,000 apprentices have taken up.
"Over 99 per cent are on the current frameworks, which is the matter of the debate, and the minister has not addressed it at all. He's trying to hoodwink the house."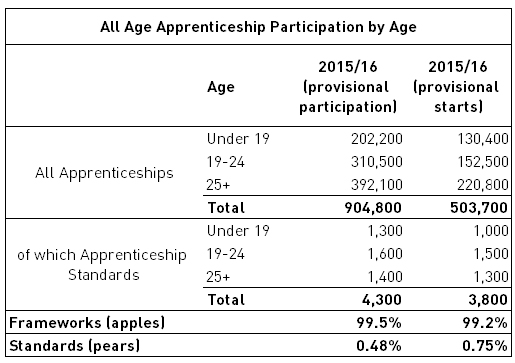 This morning's debate was called by Mr Lammy in response to FE Week's analysis of apprenticeship funding rates proposed by the Department for Education in August.
This showed these new rates would lead to funding being slashed for 16 to 18-year-olds in some of nation's most deprived areas by up to 50 per cent.
It sparked FE Week's successful #SaveOurApprenticeships campaign, which caused the government to announce a partial u-turn on the worst of the cuts last week.
The DfE announced on Tuesday it would now pay an extra 20 per cent on the funding band limit for 16-18 year-olds, and £60 million "additional support in areas of disadvantage".
However, further FE Week analysis into the impact of this u-turn found that while the cuts now won't be quite as high, most frameworks will still see reductions of 20 per cent or more.
David Hill, director of apprenticeships at the Department for Education, will also give evidence during tomorrow's sub-committee hearing.
Proceedings can be viewed live at Parliamentlive.tv and FE Week will be live tweeting.