A sailboat cannot travel forward with the wind blowing straight towards it — instead, the boat must zig-zag, travelling diagonally across the path it wants to take.
So even if the boat has travelled three miles in total, it may only have progressed two miles in its intended direction — in sailing parlance, only some of its velocity is "made good".
This, says Lindsey Noble, interim principal of Greenwich Community College, is "a pretty good metaphor" for running a troubled college — and she should know, having completed the Clipper Round the World challenge in 2013/14, before taking the helm at the grade four-rated college in January.
"We want to get to a position where we've got a reasonably viable strategic plan — I mean, it can't be a perfect document in the time available — but a reasonable restatement of where the college is going," she says of Greenwich, which was reviewed by the FE Commissioner, just days after Noble became principal, in a visit triggered by the Ofsted grade, but which also unearthed concerns over the 5,000-learner college's finances.
But, buffeted by funding cuts and future uncertainty, the 60-year-old Noble admits it will be a challenge to make progress in the direction she wants.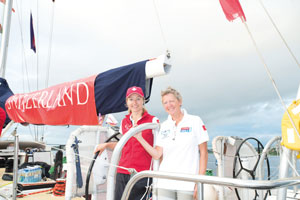 "We want to be in a position to pass a viable budget in July for next year, and that obviously means the college will be downsizing as a result of the funding cuts and the decline in recruitment," she explains.
"There's a lot of work involved to do that — strategic planning, quality, and then making sure that we can do a financial recovery, or we can demonstrate that the financial recovery is possible within two years."
And like sailing, you need data and calculations to get you there.
"You have an action plan based on the seven areas Ofsted have given us to focus on and you're using data to monitor students' performance more effectively and hold teachers and managers to account — a simple statement, but it gives rise to a whole load of issues about organising data not just for funding," says Noble.
"But it's not a case of whether we can afford to do this or that or the other — it's got to be done, otherwise the college doesn't exist."
And it was for data management that she discovered an affinity during the clipper race, drawing information about the yacht's position, course and oncoming weather patterns below deck — a task many crew members found difficult as being in the cabin often induces seasickness.
She may have had a strong stomach but, concedes Noble, it was "a completely different sort of challenge" to anything she'd experienced before.
"I wanted to see how I got on with the people and the pressure — because I can be a bit prickly and difficult," she says.
And despite living in a confined space with the rest of the 10-strong crew of the yacht The Switzerland, Noble says she "got on better with the people than I expected".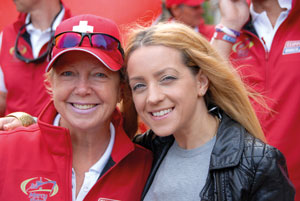 "I didn't lose it with anybody — I lost it with machinery, but then everyone lost it with machinery," she adds.
And, she says, the experience of living in a space of six feet by two feet, although "bizarre" prepared her well for taking on the interim role at Greenwich, commuting for the week from her home in Winchester.
"I'm living out of a suitcase now — but I am used to living without much stuff around me now," she says.
The physical challenge of the gruelling, four hours on, four hours off, six hours on and six hours off regime took its toll.
"After the first leg I was thinking, 'I want to get off' — I think a lot of people do that," she says.
"In the middle of the ocean, when you realise you can't do something, that left me wondering if I had bitten off more than I could chew, but I stuck it out."
Noble took up the challenge, she says, because she's "always been probably naively confident that I could do stuff".
It's a self-confidence that stood her in good stead in her own education, growing up in Surbiton, a Surrey suburb of London.
"I wasn't always particularly successful at education, but I always enjoyed it," she says.
"I always came out of whatever I was doing feeling I had learnt something, though whether it was the right thing is another matter."
After escaping the "boring", "soft suburban south" for a geography degree at Sheffield University, Noble joined Debenhams as a management trainee and then moved into sales and marketing.
But when considering returning to work after the birth of her daughter, Fern, who is now aged 26, Noble realised retail marketing wasn't where she wanted to be, so did an MBA and discovered an interest in not-for-profit organisations.
It's not a case of whether we can afford to do this or that or the other — it's got to be done, otherwise the college doesn't exist

 
"I enjoyed communication and I was very interested in finding out and understanding the process of influencing people to change their lives for the better — so I chose education or health," she says.
The first job that came up was in marketing at South East Essex College (now part of South Essex College).
"At the time I didn't know much about FE," says Noble.
"Marketing had given me a good commercial background, but I wanted to generate more good for society, the feeling that, after a day's work, one has done something meaningful and important — which of course, as we all know, is what FE is all about."
After a range of management roles over the next eight years, in around 2000, Noble's thoughts began to turn towards leadership.
"That wasn't one of the occasions where I was over-confident," she says.
"I had done the Aspiring Principals programme or something similar, and the sector was describing how it needed good, trained people as principals, and I thought I would give it a go."
After her 12 years as principal at City College Southampton, which she left in a grade two-rated condition, she set off on the round the world challenge — and even after just 18 months out of the sector, she can see changes.
"I think the speed of intervention when there are problems is faster, because it took quite a long time to galvanise people to support us in my previous position," she says.
"The level of scrutiny is very, very high — you are being scrutinised by the FE commissioner on the one hand, scrutinised by Ofsted on the other and obviously, scrutinised by the Skills Funding Agency."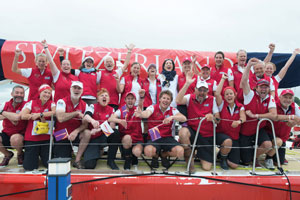 But, she adds, the scrutiny and support has been "helpful" at Greenwich.
One of the key ideas behind the senior management team's efforts to turn college around is an understanding that "one size doesn't fit all", she says.
"We've got some areas that are good," she says.
"But we still need to encourage empowerment amongst our curriculum team leaders and managers, and if we ask for them to take responsibility and accountability, we you have to give them the freedom to use some tools, within a clear policy framework, to make things right for their students to get the outcomes that they want."
Changes in the college have to happen, but Noble is determined it will happen with the support of staff.
"On the whole, like every FE college, Greenwich is full of very talented, very intelligent people, because we are all in education, so most people understand really," she says.
Once she's weathered the storm at Greenwich, and got it heading back on course, Noble plans to sail into the sunset once again — although this time at a more leisurely pace.
"The plan for me in the future is eventually to live on a boat in the Mediterranean," she says.
It's a personal thing
What is your favourite book, and why?
At the moment I'm reading Americanah by Chimamanda Ngozi Adichie and enjoying it. I like non-fiction as well as fictional treatments of history like Wolf Hall by Hilary Mantel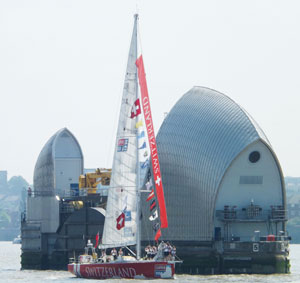 What do you do to switch off from work?
I do try to get to the gym and do yoga. At the weekends I will walk the my dog, Morse, a West Highland terrier, eat out and go to the gym — I do yoga, body balance and body pump classes
What's your pet hate?
At the moment it's the unpleasantness of people on the tube. Even though I have a bad foot in a brace at the moment, a woman raced me to the last seat on the tube. I couldn't believe it
If you could invite anyone to a dinner party, living or dead, who would it be?
I would be very interested to know what Shakespeare made of 21st Century life. So I'd like to pick him up in a helicopter from the 17th Century and take him to a modern London restaurant for dinner to see what he thought
What did you want to be when you grew up?
I wanted to go into advertising