A former Association of Colleges president has become City College Coventry's new governors' chair after a disastrous Ofsted report resulted in the Skills Funding Agency calling for "fundamental changes".
Maggie Galliers, who was the association president for 2011/12, was unanimously voted into the post and joins new interim principal John Hogg in a revamped leadership team at the Midland college.
"I am delighted as someone born, bred and resident in Coventry, to be part of the team working to ensure City College delivers high calibre education and training to its students," she said.
Mrs Galliers was appointed a CBE in the Queen's Birthday Honours List for services to local and national FE in June 2009.
She was Leicester College principal for around a decade having taken up post in 2002. She led the college to two grade two inspection results, the most recent of which came in January 2011. It included an outstanding grade for leadership and management.
Mrs Galliers, also a former principal of Henley College Coventry, accepted the invitation to join the City College board from former chair Warwick Hall.
Mr Hall, governors' chair since 2001 according to his LinkedIn profile, had overseen the college's most recent Ofsted inspection that resulted in grade four (inadequate) results across each headline inspection field.
The report, published on April 23 following inspection the previous month, also gave grade fours throughout the main findings board, including apprenticeships and 19+ learning programmes.
The 8,000-learner college's highest mark was a single grade two for teaching, learning and assessment on independent living and life skills.
"We have made it clear through the issue of a notice of concern, that an improvement plan that does not include fundamental changes to leadership and governance will not be acceptable," said an agency spokesperson at the time.
Mr Hall had also been chair during a number of other previous poor Ofsted inspection results at the college, including two at grade three.
He was replaced by Mrs Galliers, who also sits on the board of the qualifications watchdog Ofqual, after he announced he would not to stand for re-election as chair.
"Maggie has a great deal of very valuable experience and is passionate about the sector and the difference it can make to young people, local communities and the economy," said Mr Hogg, a former interim principal of City of Wolverhampton College.
"Her contribution will be invaluable as we work to make sure that all who come to study at City College get the education, support and guidance they need to realise their potential."
Mr Hogg replaced the college's former principal, Paul Taylor, who had been in post for 16 years.
After studying law at the University of Warwick, Mr Hogg completed a postgraduate certificate of education and then began his FE career as a law lecturer at Coventry Technical College before moving to Tile Hill College.
Following a period at Handsworth College, he moved to Middlesbrough College where he was promoted to head of faculty, vice principal and then principal in 2000.
"While turning the college around will be challenging I believe that by working together we will see a significant and sustained improvement relatively quickly," said Mr Hogg of his appointment at City College.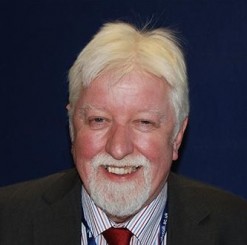 City College Coventry's interim principal John Hogg, whose FE career spans more than 35 years, was interviewed by BBC Radio Coventry and Warwickshire presenter Shane O'Connor this morning.
Mr Hogg had also inherited a college recently branded inadequate by Ofsted when he started at Wolverhampton in August last year.
Within months of taking over he told staff there that he wanted to improve "long" success rates (a mixed measure of the number of learners who start and successfully finish their courses, lasting 24 weeks or more).
They had already improved from 69.3 per cent in 2009/10 to 77.6 per cent in 2011/12. At Coventry, they have slipped from 78.4 per cent in 2009/10 to 75.2 per cent in 2011/12. The national average for 2011/12 was 81.2 per cent.
Nevertheless, Mr Hogg's full-time replacement at Wolverhampton, former South Staffordshire College deputy principal Mark Robertson, took over in May — while Ofsted inspectors were revisiting. Their reinspection resulted in an improved, grade three (requires improvement) rating.
Shane O'Connor: You've got a big job ahead of you — how are you feeling about it?
John Hogg: It's the kind of job you think very carefully about before you do it. My position is I've come in as interim principal. I retired as a career principal three years ago. Since then I've been going into colleges in this position and this is the third — I was recently at City of Wolverhampton College and that was in a very similar situation; perhaps even worse, financially.
One of the reasons I took this wasn't intellectual, it was emotional. I started my career in Coventry. I've got Coventry to thank for launching me on a career programme. I came here for my higher education, I was five years at Coventry Tech and five years at Tile Hill, so it's a mixture of emotion and intellect that made me think about the job, but I didn't think for very long.
SO'C: It sounds, from your experience, like you're not going to be surprised by what you see — you'll have seen most of it before.
JH: Every college is the same and every college is different, but it's not people that cause colleges to have problems — it's usually the systems. It's usually the system of accountability, where people are a bit woolly about what their responsibilities and accountabilities are. So one of my key tasks is to create a structure that shows definitive accountability from the governing body, through me, right through the management team and down to every level in the organisation, so that people absolutely know what they have to do, what the targets are and then allow them to get on with it.
SO'C: But it could be people too couldn't it? Because they could have those clearly defined responsibilities and either can't step up to the mark or won't step up to the mark.
JH: That can happen and that has to be dealt with as well. I guess what I'm really saying is I feel this side of things is being judgemental and I don't want to make judgements about the past or people based on the past, but you have to use judgement to inform the future. There has to be some sort of redemptive position in this as well to enable people who haven't had clear responsibilities to step up to the mark and that's what we're doing.
SO'C: Do you think we worry about too much? The aftermath in these situations can be that we want to blame someone.
JH: Absolutely — I experienced that in another college and if I'd taken every stakeholder's advice, by the end of the first week I'd have been left sitting in an office with tumbleweed blowing through; not having a clue where I was, who knew what or what the history was, so you have to continue the thread that existed. It's a complex, but simple thing we have to do.
SO'C: How long do you have before people's patience runs out?
JH: Not very long — we will have a monitoring visit from Ofsted in the next couple of months and that will make judgements about the distance travelled since March. So one of my first tasks is to do an analysis of what distance have we travelled and inevitably in colleges like this, because of the vacuum that's created and the sort of 'who's to blame for this' ethos, there's a slight period of dysfunctionalism, but we've got it back on track and we've got to move inexorably to keep it on track.
The monitoring visit will be a bit of a curate's egg I would imagine, but the objective is to get the college to the next stage of its development by the date of the next inspection, which could be any time from February onwards. And that's my immediate task.
SO'C: What kind of things are you going to need to do?
JH: The college is not in a necessarily weak financial position compared to the sector. No college is in a strong financial position nowadays … if we're in the public sector we're facing cuts. It's about creating a new strategic plan; to create a curriculum plan that actually focuses on the people here. That's really, really important for the college, because a lot of colleges can gradually and unconsciously lose their way over the years by concentrating on overseas markets — on a product range that they're not really mandated to undertake.
What we're doing, and what we're doing with the governing body, is to say: 'let's get back to basics'. And the core stuff is to actually serve the people of Coventry, and if we don't serve them we're letting them down, and if we do serve them well than that's what we're here for. So it's simplifying — it's back to basics. It's getting a structure that allows accountability, authority and autonomy, to a certain extent, to allow people to actually drive it and to give people back the passion.
These are youngsters in the main in Coventry and it sounds a bit cheesy, but it's a sacred responsibility and every time we lose a student we fail, so it's about getting that message across; it's about renewing the hunger; it's about becoming offensive in the nicest possible way rather than being defensive about the past. Let's get offensive about the future — that's the culture we need to bring in.