The Department for Education (DfE) has unveiled a detailed report spelling out Education Funding Agency (EFA) 16 to 19 subcontracting arrangements for the first time.
The Skills Funding Agency has published its subcontracting data for years, but yesterday (January 28) was the first time the EFA followed suit.
Publication of the 2014/15 report, for example showing how many subcontractors each lead provider dealt with and the number of learners involved, was only made possible because the EFA collected the information for the first time last academic year.
A spokesperson for the DfE told FE Week the publication was "part of the government's ongoing commitment to greater transparency".
It featured 184 lead providers, dealing with 467 subcontractors who taught 21,000 learners.
Each lead contractor dealt with an average of three subcontractors.
The largest lead providers by student numbers subcontracted were Central College Nottingham (930), South Essex College of Further and Higher Education (835), Weston College of Further and Higher Education (797), NCG (730), and Greater Merseyside Learning Providers' Federation (516).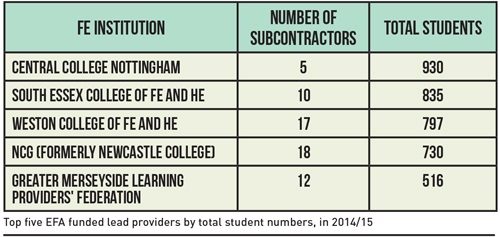 When asked why it subcontracts the provision, deputy principal and chief executive of South Essex College Anthony McGarel said: "We work with skilled collaborative partners that are specialists in their field, these partnerships have been extremely successful for many years.
"Working alongside the best local providers, on targeted curriculum areas, reduces unnecessary course duplication and provides more choice for young people in Essex."
One of its subcontractors was Surrey-based SCL Education and Training Ltd.
SCL, which had the most learners among all subcontractors, dealt with four lead providers — South Essex College (633 learners), Jancett Childcare and Jace Training (38 learners), Access to Music (344 learners) and Bromley College (39 learners).
Lewis Field, director at SCL, said they ran courses from level one to level three in sports and active leisure, and also provided GCSE maths and English as well as Functional Skills.
He said they were in discussion with the EFA about becoming a lead provider, when asked why they operated as a subcontractor.
A South Essex College spokesperson told FE Week it had subcontracted with SCL for three years.
She said that "the work they've done has been amazing".
A spokesperson for NCG, which worked with 18 subcontactors, said "the vast majority of [our] subcontracting of EFA funding is via NCG's charitable training provider Rathbone Training, which works with disadvantaged young people via many centres in many communities, not a single college".
"When NCG acquired the Charitable Training Provider, Rathbone Training, Rathbone had a number of areas where it held what were 'Managing Agent' contracts for 16-18 youth engagement provision.
"This involved managing a supply chain of smaller niche providers to ensure that full coverage of the geographical area was maintained in order to work with learners who are not in education, employment or training.
"In many areas, these networks continue to work well, ensure quality provision in many communities and were cited very positively by Ofsted in Rathbone Training's last inspection."