In a time of increasing pressure on resources, every college is exploring ways to improve its cost effectiveness. National policy advice continues to nudge colleges towards investing in Shared Service solutions, and yet most colleges are reluctant to give up sovereignty of their support service functions.
But to quote the strap line of a major high street bank: there is another way! Some recent data analysis work has been undertaken to support colleges who wish to improve their cost effectiveness through business process reengineering.
The work stemmed from an analysis of sector benchmarking cost data and recasting the data on a transactional cost basis. This approach seeks to identify how much it costs each college to run its support services, for example its finance function; or HR service; or MIS based on the key driver of that cost area. One such "cost-driver" might be MIS cost per student.
The research results show that some colleges spend three times as much as others on running their MIS function. And some spend three times as much on their finance function, and others three times as much on their HR function.
Even more surprising is that the lowest cost functions are to be found in 'Outstanding' colleges as measured by Ofsted. One of the highlights of the research is shown in the chart below.
The chart below shows the wide range of expenditure levels per learner, when assessing the 'transactional' cost of the MIS function by establishing the cost per learner. The wide range of costs is similar if you were to consider the transactional cost 'per enrolment' rather than 'per learner'; though most colleges believe that the key driver of MIS costs is the learner.
And to confirm the earlier comment about quality of service, this is what the Inspection Report of College 2 in the above chart said about the quality of data and MIS at College 2 which is an 'outstanding' college as judged by Ofsted:
"Data are accurate and accessible. Staff at all levels are able to access very detailed and useful information with which to judge the progress and outcomes of their courses. The performance management of staff is equally effective."
The wide range of costs in the chart means that there is potential for average savings of some 60 per cent in MIS costs if all the other colleges were to structure their MIS function in line with College 2.
In cash terms the research shows an average cost benefit per college of circa £500,000. And at the lowest quartile there would still be potential savings opportunities of some 33 per cent representing £250k per college. This suggests that there are significant opportunities for colleges to reduce some of their back office costs without moving to a shared service solution.
Do you know what the transactional cost of your MIS function is (or any other support function) or how it compares to those of other colleges? Maybe a transactional cost analysis of your support functions would be a good place to start when considering the challenges of next year's allocation.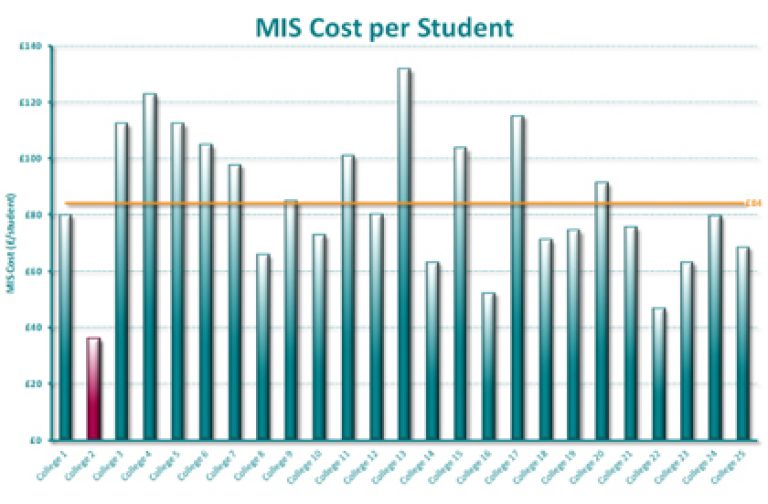 Gary Williams
Director of FE & HE Services, Tribal