The new deputy director of assessment for the Institute for Apprenticeships, a role likened to "a hand grenade with the pin removed", has been unveiled.
Shadow chief executive of the IfA Peter Lauener revealed today, at the Association of Colleges Governance Summit, that the job has gone to head of education and skills at British Film Institute, Nikki Christie.
Jonathan Mitchell, deputy head academic at London independent Forest School, is to be deputy director apprenticeships standards development.
FE Week has also learned that job adverts for the IfA's permanent chief executive and deputy CEO will be advertised "shortly".
Former Barclays chief executive Anthony Jenkins, who was announced as the shadow chair in June, is now permanent.
Mark Dawe, chief executive of Association of Employment and Learning Providers, said in an exclusive FE Week webinar in January he felt sorry for whoever takes on the director of assessment post, warning against duplicating the job of qualifications regulator Ofqual.
"I imagine anyone taking on this role will feel like they have been handed a hand grenade with the pin removed," he said.
"But the actual leg work – we don't understand why that isn't given to the government agency that's there with the expertise in assessment, and that's Ofqual."
He said there were still talks to be had on the end-point assessment of apprenticeships, over whether it will be "valid, reliable, manageable across all the standards".
"We've heard maybe 50 per cent – maybe more than 50 per cent now – of standards have an EPA organisation," Mr Dawe said.
"They [the government] could make their lives a lot easier if they just didn't duplicate and actually commissioned Ofqual to do the work that's needed."
The government launched its long awaited IfA consultation on January 4, with responses required by the end of the month.
It explained that key functions for the new apprenticeships policing body, set to be formally launched in April, will include quality assurance of apprenticeship assessments.
The external quality assurance is a direct lever that the IfA "can use to exercise its primary function to help ensure the quality of the reformed apprenticeship system. It is up to the IfA to decide what form its EQA takes."
The government strategy on this also stated: "The IfA should consider how best to ensure that effective and high-quality external quality assurance processes are available and are applied to all end-point assessments.
"It will need to satisfy itself that all options will ensure consistent assessment and require a high standard from all apprentices."
FE Week then reported on February 7 that the IfA will charge apprenticeship assessment organisations for external quality assurance of new standards – despite Ofqual keeping the service free.
Mr Lauener said that it was acceptable for the institute to charge for the service because "the principle of a regulator charging bodies in the industry for regulation is not uncommon at all".
Currently, when employer Trailblazer groups submit their assessment plans for new apprenticeship standards.
They must choose one external quality assurance organisation out of four options: Ofqual; the Quality Assurance Agency, which generally deals with higher education qualifications; a professional or sector body, which the Trailblazer group can create themselves if desired; or the IfA itself.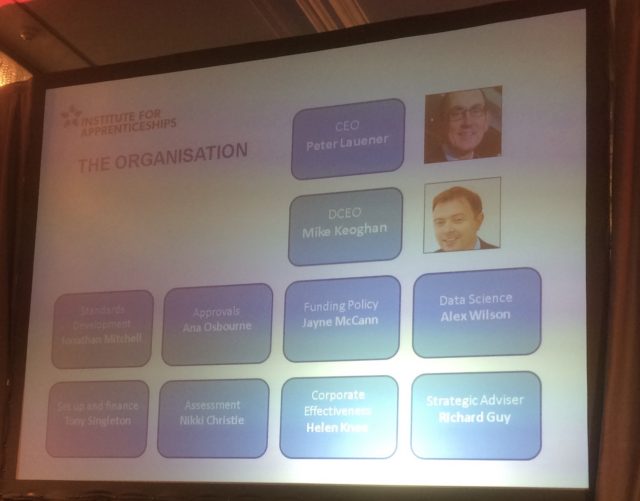 In all, Mr Lauener showed today in his projection (above) to delegates that eight IfA roles have been filled, with only two of the deputy directors (Nikki Christie and Jonathan Mitchell) from outside the civil service. The other senior management appointments are for:
Deputy director for approvals – Ana Osbourne,
Deputy director for funding policy – Jayne McCann
Deputy director for data science – Alex Wilson
Strategic adviser – Richard Guy (part-time consultant)
Deputy director for corporate effectiveness – Helen Knee
Set-up and finance – Tony Singleton (part-time consultant)