Principals of general FE colleges in England have been snubbed in this year's Queen's Birthday honours – as FE governors take the limelight.
The lack of recognition is in marked contrast to last year's birthday honours which saw the principal of City and Islington College, Frank McLoughlin, receive a knighthood.
But Margaret Serna (pictured above), chair of Lincoln College, received a CBE in this year's list, while Josie Teasdale, lately chair at Barnsley College, was given an OBE as was Mark White, chair designate of Stockton Riverside College. Keith Brown, College of North East London chair, got an MBE.
The list also includes honours for 11 heads of schools, academies or multi-academy trusts, along with two sixth form college principals.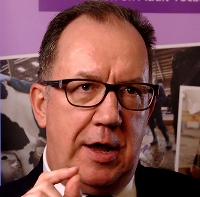 It is the first time since FE Week was launched in 2011 that no general FE college principals in England have been named in an honours list.
The most recent New Year's honours included a CBE for former Exeter College principal Richard Atkins, and an OBE for Sam Parrett, principal of Bromley College since 2010.
And last year's birthday honours also saw former Leeds City College principal Peter Roberts receive a CBE, while Shelagh Legrave, principal of Chichester College, and Desmond Lambert, former principal of Plumpton College, both received an OBE.
Two principals were awarded CBEs in the New Year's honours announced at the end of 2014 – Michele Sutton, former Bradford College principal, and Dawn Ward of Burton and South Derbyshire.
A further four principals were handed OBEs in the same honours list.