The FE Choices website is to shut next month after three-and-a-half years, it was revealed by the Skills Funding Agency (SFA) this afternoon.
The website, which was previously known as the Framework for Excellence and which allows the public to compare the performance of providers, is set to close at the end of October.
An SFA spokesperson said the move comes as part of the wider programme to move all government websites to GOV.UK.
An FE Week exclusive (see right) six months after the website launched in January 2012 revealed 6,230 people had viewed it.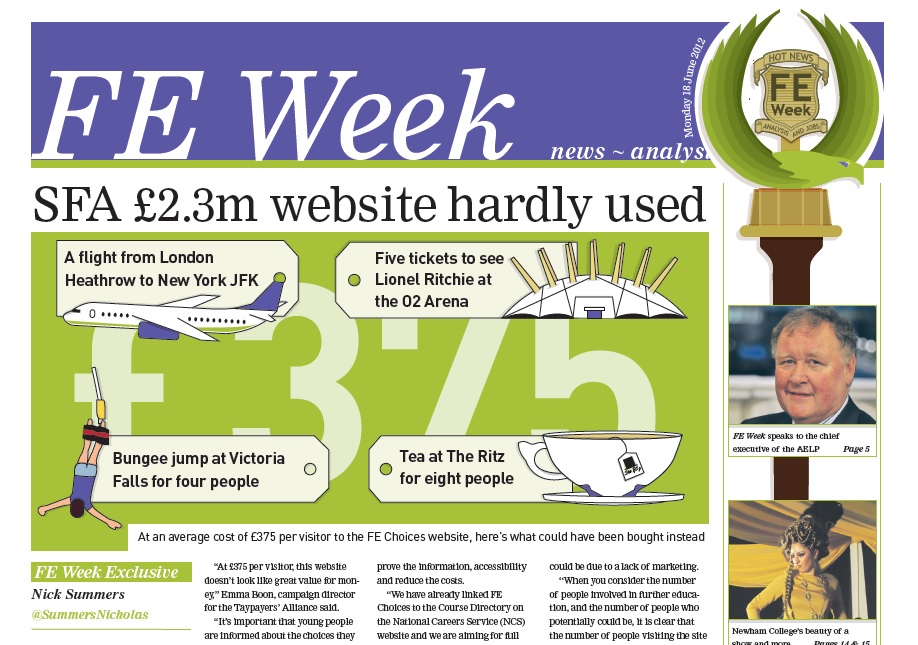 The figures, released under the Freedom of Information Act, further showed that the website had been visited by 1,246 'unique' visitors on average each month.
The request, submitted by FE Week, also revealed that the FE Choices website had cost the taxpayer more than £2.3m up to that point.
The website itself had cost £630,000 to build, with the remaining £1.7m spent on the gathering and production of data.
The figures worked out as a cost to the taxpayer of £375 per visitor and the coverage was picked up by Private Eye, which questioned whether FE Choices "may be one of the most expensively pointless government websites yet".
However, while the website is closing, the SFA spokesperson said it would "continue to make all FE Choices data available on GOV.UK and DATA.GOV.UK, with performance indicators held on the National Careers Service website."
"Our last update to the website was on Thursday, September 3, when we published the 2014 to 2015 learner satisfaction data," they said.
"FE Choices satisfaction surveys will continue to run as normal, with the next survey opening on Monday, November 2."