Danielle Scandone came out of day two of EuroSkills Gothenburg feeling reenergised thanks to her intricate fingers that produced a smashing floristry body adornment.
The Merrist Wood College 21-year-old (pictured above) has spent the last two days completing four different flower arrangements.
And she feels most confident about one in particular, her body adornment that include epaulettes – a flower piece that sits on the shoulder.
She told FE Week at the end of day two: "I have six tasks to do over the three days and done four so far.
"I've done a hand-tie bouquet with a frame, a floor standing arrangement, a body adornment, and a wreath.
"Tomorrow I've got a bridal bouquet and a table arrangement.
"But my body adornment today I felt I really smashed it and enjoyed doing it and I come out feeling really reenergised from it, I knew I had done well and got what I wanted.
"I made epaulettes, a piece that sits on the shoulder, and I really enjoyed it. That is my sort of bag, all the fine detail stuff involved in that."
She added that the event as whole is something she "didn't expect" and it has been "quite stressful at times", but one she wouldn't change.
"The event has been very pressurised and a little bit stressful at times but I've pulled through and got there in the end.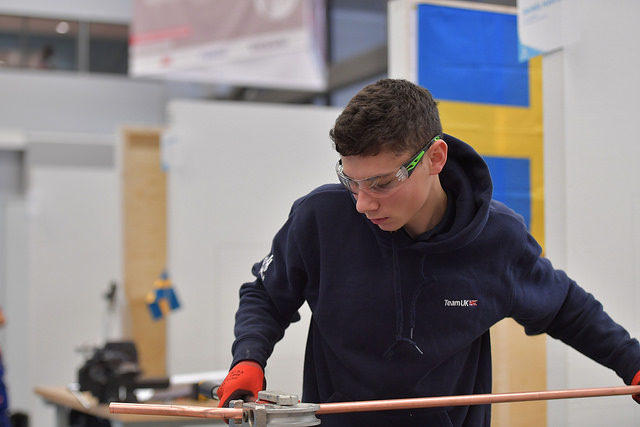 "The experience has been brilliant, I wouldn't change it. I've had so much fun."
Meanwhile over at the plumbing and heating competition, 21-year-old Daniel Martins, who works for Briggs and Forrester, had been using his precision skills to make sure his work was not even a millimetre out of place.
He told FE Week: "For the last two days I've been working on a mock apartment, doing the heating and cold water system where everything has got to be as accurate as possible to the drawing.
"All angles have to be within one degree and measurements within two millimetres. Tomorrow I have the gas to finish and the last bit of my heating module to complete and hopefully it will all go well.
"Competition can be very stressful. You want it to be perfect so you critique yourself a lot but it has been a great experience.
"By tomorrow I would have a created a mock apartment with two boilers and two pumps pumping around the system, a towel rail and a hot and cold water system.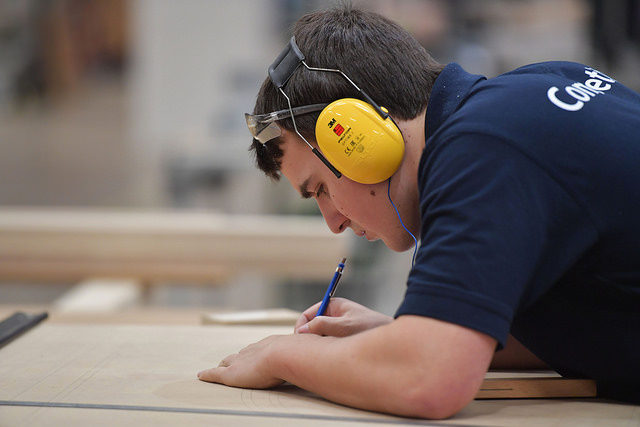 "I'd like to think I've got a chance of a medal, but you never know until the end really."
And joinery competitor Conor Willmott was happy with his progress but was wary of his "talented" competition.
The 21-year-old from West Suffolk College said: "We're making a window and frame doing architectural joinery.
"The wood we're using is a mixture of European oak and American white as, which I'm familiar with but this is a whole new level of work that I've never done before. I've never had to work to this sort of standard or make anything that complicated.
"I hope I get top three but I'm not too optimistic because there are some really talented guys in there."