Education and Training Foundation (ETF) chief executive David Russell has spoken out to defend the awarding of a £1m learning technology contract to Gazelle as he acknowledged "scepticism" about the organisation.
The Gazelle Foundation beat three other bidders to win the learning technology contract, due to end by November next year, thanks to the "depth of knowledge and understanding" it displayed, Mr Russell (pictured above) told FE Week.
It comes just weeks after a month-long FE Week investigation into multi-million pound funding of Gazelle by UK colleges resulted in criticism from the University and College Union that public money was being used on "expensive initiatives which have little educational impact".
It raked in around £3.5m with the group's five founding colleges having dished out more than £530,000 each, according to figures obtained from Freedom of Information Act. More than 20 current and former member colleges had been asked what they spent on the organisation, which was launched in January 2012 with standard annual membership priced at £35,000.
Gazelle chief executive Fintan Donohue (pictured below) defended the organisation at the time, claiming "enrichment of student experiences and outcomes" was its "overriding goal".
Nevertheless, ETF chief executive Mr Russell approached FE Week to defend the learning technology contract going to Gazelle.
He said: "I read the papers. I know there is scepticism in some quarters about Gazelle, who will lead the consortium on this delivery work for us. I understand some teachers and lecturers have asked pointed questions about whether Gazelle deliver on their promises, and about whether they always act in the interests of learners."
He added: "They [Gazelle and its partners] won the contract because their bid was convincing in the depth of knowledge and understanding it displayed; dynamic and innovative; pedagogy-focused not technology-focused; and above all with learner benefit at its heart.
"This programme will provide support across the education and training sector, including colleges, private training providers and others (it is not aimed at any particular group of providers).
"Gazelle will be assisted by its consortium partners — the Association of Colleges (AoC), Association of Employment and Learning Providers (AELP) , 157 Group, and National Foundation for Educational Research (NFER), together with a wider steering group that they are convening to oversee the programme." [The rest of Mr Russell's statement can be read here]
Gazelle has also previously been awarded five ETF contracts, totalling £168k, for work including strategic consultation on learning companies, and two stages of strategic consultation on vocational education training, technology in teaching and higher level apprenticeships.
However, its latest ETF contract is easily the biggest it has won yet, at £1m.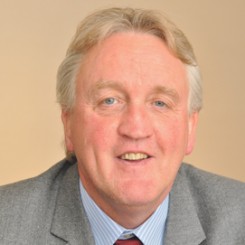 Mr Donohue said: "The ETF's learning technology programme will give a boost to innovation and the sharing of best practice across the sector.
"By coordinating input from teachers and leaders across all of the education and training sector, employers and the technology industry around the emerging themes for development, Gazelle hopes it can contribute to the success of the programme.
"The Feltag [Further Education Learning Technology Action Group] report makes the challenge for our sector clear. The ETF has a clear vision on what they want from the programme and we are pleased to be working very closely with them to deliver their requirements. We look forward to bringing all our energy and networks together to help the ETF achieve its vision in the year ahead."
Jenny Williams, ETF director of vocational education and training, said the contract drew on Feltag findings and recommendations of the Commission on Adult Vocational Teaching and Learning.
She said: "A suite of innovation and action research projects will sit at the heart of the programme, and communities of practice will enable the spread of learning from these projects through local and regional networks.
"The projects will be inclusive and innovative, engaging with staff and organisations right across the education and training sector, and involving both learners and employers in their design, delivery and review."
A Gazelle spokesperson told FE Week: "An initial advisory group has been convened that already includes representatives from the 157 Group, AoC and AELP. This is being extended to bring in the widest possible representation of colleges and training providers from across the sector.
 "Expert advice is being sought from organisations such as NFER and Coralesce, and the programme will engage with a range of technology organisations and entrepreneurs.
"A more detailed prospectus and overview of the project and partners will be produced in the coming weeks."