The government has been told to "purge" its official register of end-point assessment organisations (RoEPAO) after FE Week found a sole trader and a new company with no trading history had successfully applied.
Sixteen companies were added to the Education and Skills Funding Agency's register last month, taking the total on there to 215.
FE Week did a background check on the newbies and found that one of the companies was only incorporated in August and that its owner has no track record in apprenticeships.
This exposes a major concern and clearly demonstrates the blind panic the government must be in
Another is not an organisation at all, it is a sole trader, who FE Week has attempted to contact for two weeks and who has yet to issue a response.
Two further companies got on to the register despite their accounts submission to Companies House being overdue.
The findings are ringing alarm bells with sector leaders, who have raised concerns at the lack of robustness of the approvals process and who fear a repeat of what happened with the register of apprenticeship training providers (RoATP), which took on many firms with little to no trading history.
"Companies are being admitted that wouldn't pass even the most basic of due diligence checks," Tom Bewick, chief executive of the Federation of Awarding Bodies, said after seeing FE Week's findings.
"A dash for growth of the EPAO register is being made at the expense of quality. It is time the authorities got a stronger grip, purged the register and took steps to ensure public confidence in the EPAO model is restored."
The backlash against RoATP when it was first launched led to the government closing the register for nearly a year while it came up with a new and more robust approvals process.
The ESFA finally relaunched the register in December but now, applicants must have traded for 12 months at least in order to be eligible and must provide a full set of accounts. But these rule appear to not cross over to the RoEPAO.
"This exposes a major concern and clearly demonstrates the blind panic the government must be in about the need for assessment organisations for some apprenticeship standards," Association of Employment and Learning Providers boss Mark Dawe said after being shown FE Week's findings.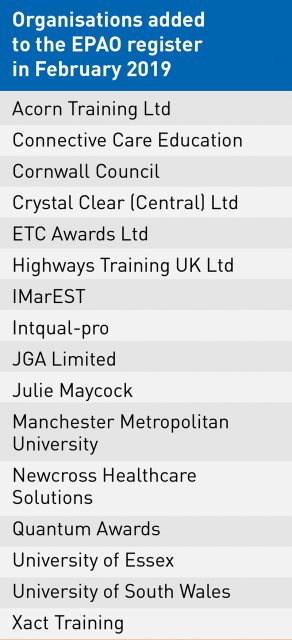 "Providers and employers will need to be very careful when selecting end-point assessment organisations as it seems this register is as flawed as the original register of apprenticeship training providers."
In April last year FE Week was first to expose the end-point assessment crisis after finding that nine would-be dental practice managers who should have completed the programme in May 2017 still could n0t be tested because there was no organisation to assess them.
Last month FE Week revealed that there are currently 17 apprenticeship standards ready for delivery with no end-point assessment organisation in place, nine of which have starts.
Dawe said the pass rate to get on the RoEPAO was "only about 20 per cent" when it first opened and "yet now in order to fill the big gaps in EPA provision, there's a danger of the agency letting foxes into the chicken coup".
Graham Hasting-Evans, group managing director of NOCN, an end-point assessment organisation, said his company was "subject, quite rightly, to stringent checks, including those on our financial position".
"We would be extremely disappointed to find that organisations are being allowed on the register without going through the same robust checks," he added.
A Department for Education spokesperson said the application process for end-point assessment organisations "is robust" and "at the time of application all 16 organisations referred to were fully evaluated and able to meet the criteria for entry to the register".
There is no suggestion of wrongdoing by any of the EPAOs.
The EPAO incorporated just 6 months ago
Quantum Awards Ltd got on to the RoEPAO in February despite being incorporated only six months ago. It can now do end-point assessments for apprentices on the level three improvement technician and level four improvement practitioner standards.
Quantum's website is a single page with a mobile number and email address for its majority shareholder, Mark Smith, who is currently serving his notice period at Jaguar Land Rover.
He told FE Week that he and his business partner, who is currently serving his notice period at another company, set up Quantum after looking for a "career change that puts something back into developing the problem-solvers of the future" after working in the automotive industry for "many years".
Smith admitted he doesn't himself have any experience in apprenticeships, but said his partner does.
He told FE Week Quantum expects to conduct around 150 end-point assessments every year.
The sole trader

The sole trader on the EPAO register is Julie Maycock, who trades as Mighty Oak Training and can assess apprentices on the level four revenues and welfare benefits practitioner standard.
Her LinkedIn page states that she is a training and policy officer at Cambridge City Council, as well as a self-employed training consultant.
Maycock is registered on the government's Find Apprenticeship Training website and describes herself as an "individual training provider specialising in working with apprentices advising customers in welfare benefits, housing, council tax, business rates and housing benefit".
"I hold a role in local government which ensures that I am fully up to date with day-to-day processes and legislative requirements," it adds.
"I have worked in the public sector for over 25 years, which I feel is invaluable when working with public services apprentices."
Maycock doesn't, however, have any reviews from employers.
FE Week has been attempting to contact her (via her contact details on the Find Apprenticeship Training website) since February 12, but she has not responded at time of going to press.
The ESFA said that sole traders are allowed on to the EPAO register but that they need to demonstrate suitable expertise and resources to be able to develop and conduct the end-point assessment.