By 2020, when the apprenticeship reforms will have taken full effect, there are likely to be around 500,000 end-point assessments carried out every year.
Sally Collier, chief regulator at exams watchdog Ofqual, told a room full of training providers at the Association of Employment and Learning Providers' conference in June, that she was "concerned" over assessors' capacity and capability to meet this surge in demand.
In July, FE Week reported on Ofqual's plans for capacity audits at the end-point assessment organisations they oversee as an external quality assurance provider.
But what is affecting EPA organisations' ability to recruit qualified assessors? Are they confident they'll be able to meet demand?
FE Week spoke to more than a dozen organisations delivering those all-important final exams.
---
"The sector will find many challenges"
End-point assessments are still in their infancy. 
According to Department for Education statistics, there were just 1,210 achievements on standards, including end-point assessments, in the first nine months of 2017/18 compared to 180,180 on the old-style frameworks.
Nonetheless, many EPA organisations are already facing challenges in recruiting enough assessors – prompting the boss of the largest one to say he is "very worried" about the sector's ability to meet demand as it grows.
NOCN is signed up to deliver the final exams for 44 standards – more than any other organisation.
Its managing director, Graham Hasting-Evans, said it was able to meet current demand across all those standards, but that "this is against a background of very low numbers of apprenticeship starts", with only a slow increase predicted.
Downward pressure on funding was also likely to bite, he warned.
"We are therefore very worried that, in the next year, the sector will find major challenges in sourcing sufficient EPA assessors," he said.
Mr Hasting-Evans is not alone. While almost all of those FE Week spoke to were confident about their ability to meet demand now, many admitted to sleepless nights about continuing to do so in future.
Understandably, not everyone was willing to go on the record about their fears. But those that did highlighted a range of issues that should give officials cause for concern. 
"We're working pretty much in the dark"
A number of assessment organisations said they could meet demand for the assessments they knew about – but it was the assessments they didn't know about that were worrying them.
Providers and employers are "reluctant" to indicate when an apprentice will be ready for assessment, according to Terry Fennell, chief executive of FDQ, which is registered to deliver the final exams for five food industry standards.
While the rules say that the employer or provider must inform the EPA organisation once they've been chosen, "this is not happening in reality".
As a result, organisations "have to speculate take-up figures, so building adequate capacity for EPA is a precarious exercise", Mr Fennell said.
Combined with a lag in when starts are reported, this means they are "working pretty much in the dark".
It's a situation playing out across a number of assessment organisations.
Tim Hattersley, apprenticeship director at DSW Consulting, which is on the register for 23 standards across the business sector, said many providers and employers didn't know they had to register with the EPA organisation.
"That could throw a spanner in the works if there is a lot more out there than any of us believe," he said.
For some of the "very, very large volume standards" there will be a "certain pace of registration that will come as a bit of a shock", he said.
"At that point we'd need to know what would we do if we got 1,000 more learners arriving and they're going to reach gateway in three months' time and they've all got to be assessed," he said.
The 'occupational competency' struggle
Many standards have strict rules on who is qualified to deliver the assessments – including a demand that the assessor be "occupationally competent" – leading to organisations tying themselves up in knots to try to meet them.
Assessment organisations told FE Week of the extra lengths they had to go to in their recruitment – particularly in healthcare.
Charlotte Bosworth, managing director of Innovate Awarding, which is signed up to deliver assessments for 26 standards, said she was struggling to recruit assessors for two healthcare standards due to the requirement for them to be a currently registered nurse.
It's really challenging to find someone in that position who is willing and able to put in the time to do the assessments
"It's really challenging to find someone in that position who is willing and able to put in the time to do the assessments," she said.
Innovate had only managed to attract a small number of assessors for these standards, despite going out to recruit "a number of times".
It's not just recruiting assessors – it's keeping them
Many of the assessment organisations told FE Week they'd managed to recruit large banks of assessors. But because assessment numbers are so low at the moment, these are mostly on a freelance basis – and as demand grows, there's no guarantee they will all still be available.
Ms Bosworth told FE Week they were having to work to keep their assessors "warm", as they "aren't working at full capacity yet".
Nonetheless, she said it was "challenging" to retain them, and some had dropped out to take up a full-time job, while others had left as EPA "just isn't for them".
"It is new and very different to assessments many have carried out previously," she said.
In addition, as a number of assessment organisations pointed out, there is only a limited pool of qualified assessors out there – and the same ones may be signing up with multiple organisations.
"Clearly that could mean, in due course, that once those people are starting to be tied up then they're not available to another one that they're registered with," said Mr Hattersley.
Is Ofqual's concern valid?
It's almost impossible to predict the picture for assessor capacity and capability once numbers have hit their peak – given the uncertainty over apprenticeship starts.
The assessment organisations FE Week spoke to were all doing the best they could to plan ahead, but this was for the next year when numbers are still set to be relatively low.
It's going to be an interesting ride in the next couple of years
According to Mr Fennell, while "every chief executive of an EPA organisation out there" is working hard to overcome these challenges, "most of us are in unchartered waters trying to predict the market forces and delivery of new services".
"It's going to be an interesting ride in the next couple of years."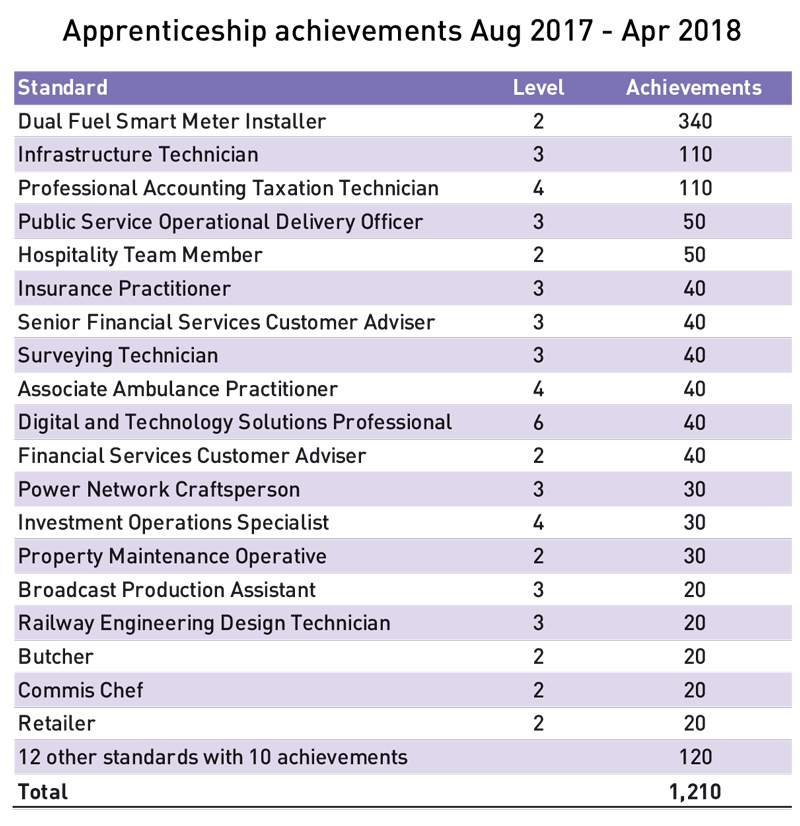 ---
What is the government doing about this?
Ofqual's chief regulator Sally Collier first voiced concerns over end-point assessment capability and capacity at the AELP annual conference in June.
Just a month later the exams watchdog confirmed it would be carrying out a series of audits "to help understand how the EPA organisations we regulate are mitigating risks" around this issue – audits that are now underway.
But Phil Beach, Ofqual's executive director for vocational and technical qualifications would not be drawn on any specific concerns that had prompted the visits. 

Instead, he told FE Week they were part of its "business-as-usual activity" designed to "make sure that, in a period of significant transformation, we look at those areas where we think the change will bite".
"We do recognise that this is a new world, therefore having an audit programme early on in the process is really important, to inform the Institute for Apprenticeships and other external quality assurance providers, so that we can take a systemic response," he said.
Once the audits are complete, which is expected to be in 2019, Ofqual will share its findings – "issues and good practice" – with other EQA providers and the IfA.
It will also "disseminate points of good practice across AOs, and where we find limitations, we will seek to address them though our regulatory powers," he warned.
Heather Akehurst, chief executive of Open Awards, which is contracted to carry out EQA on behalf of the IfA, said it had not yet "identified any EPA organisation who lacks the ability and capacity to carry out their role".
"We are however aware of the concern and will be vigilant in our ongoing monitoring," she said.
Both the Department for Education and the IfA said they were "aware of the challenges" that EPA organisations were facing and were "working with them and their representative bodies to address the issues that they raise with us".
"We are also working with individual EPA organisations to provide support and advice on dealing with the changes in demand for end-point assessment," both said.
The IfA said it was also "doing work to ensure that employers engage with EPA organisations in a timely manner" and that assessment organisations "are able to gear up to meet the demand from employers".
---
Where are EPA organisations recruiting their assessors from?
When it comes to recruiting assessors, there's no one-size-fits-all approach.
A number of the assessment organisations FE Week spoke to said they were drawing from existing pools of assessors.
These could be external verifiers, internal quality assurers, on-programme assessors or those with an external quality assurance background, who perhaps currently work for training providers or awarding organisations.
However, as Graham Hasting-Evans, managing director of NOCN, pointed out, the difficulty with this approach is the Institute for Apprenticeships' insistence on "occupational competency and continuing professional development" in assessors – requirements that are "difficult for existing assessors to match".
Because of this requirement, some organisations have taken a different approach and are recruiting from industry and then training them up to be assessors.
Ben Cressey, director of apprenticeships and work-based learning at Highfield Qualifications, said they saw the new requirements as "an opportunity to explore even further what recruiting from industry looks like". It then provides its own training to equip the assessors with the relevant assessment skills.
He said that approach, one of a number it has taken to recruitment, was "working really well" for Highfield, which is registered to deliver the final assessments for 25 standards across a number of industries including transport and logistics, and health and social care.
Chris Young, managing director of Future Qualifications, told FE Week he was drawing on the resources of 10 different NHS trusts the organisation worked with to recruit assessors for the level four associate ambulance practitioner standard.
To avoid any possibility of conflict of interest, an assessor from one trust would assess apprentices at another, he said.
Other organisations that aren't traditional awarding bodies are able to take advantage of their existing links with industry.
Tony Howard, director of training at BESA Group, which is on the register for nine standards, the majority of which are in the construction industry, said that "as a trade association we are not finding resourcing qualified assessors an issue" as "we do have in-depth resources effectively available to us".
---
Can assessment organisations afford to deliver EPA?
The Institute for Apprenticeships is currently reviewing the funding bands for 31 popular apprenticeships.
Though the results are yet to be confirmed, we know a number of standards are facing cuts – and this downward pressure on funding is likely to make issues with EPA even worse.
Education and Skills Funding Agency guidance stipulates that EPA costs "should not usually exceed 20 per cent of the funding band maximum", so if this rate is reduced, so too is the amount available for the final exams.
Many EPA organisations are already struggling to make ends meet on the assessments they're carrying out.
According to Graham Hasting-Evans, managing director of NOCN, end-point assessments costs are "mainly driven by the daily rate that must be paid to the assessor".
For some of the higher level, specialist standards, he said this fee could be as high as £1,000 a day, which far outweighs the funding available.
Even when they were paying assessors standard rates, some organisations said they were barely making any money – if at all.
The cost to the assessment organisation for delivering the final exams depends on many factors, including location.
An assessment taking place in a rural location, far from the nearest available assessor, will inevitably cost more to deliver – due to increased travel costs.  
However, some felt this situation would improve once numbers picked up, as they'd be able to assess more apprentices in one go, or have more assessors available to them, which would bring the cost down.
Alternatively, they'd be able to take on assessors on a full-time or permanent basis, if there was a guarantee of frequent work.
Others were less optimistic, with one organisation, which wanted to remain anonymous, believing that "only time will tell if it's worthwhile" to deliver some assessments.
Mr Hastings-Evans urged the government to do more to support EPA organisations with assessment costs.
"If we are to attract the large numbers of high quality assessors that are going to be needed, we will need to be able to adequately reward them and also be able to recover the substantial recruitment and training costs the EPA organisations have to bear upfront," he said.