English and maths judgements do not exert an "overriding influence" on Ofsted's college inspections, despite a recent spate of 'inadequate' ratings, according to its deputy director for FE and skills.
Paul Joyce (pictured) has written to FE Week to defend Ofsted's recent ratings spree, which has seen 10 colleges receive the lowest possible rating since the new common inspection framework was launched in September.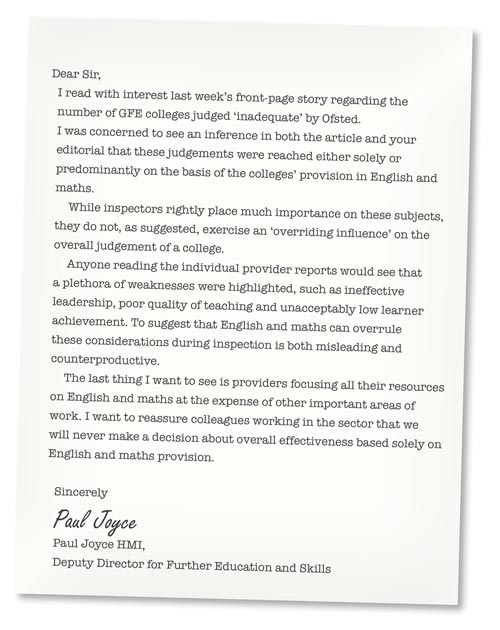 All 10 were slammed by inspectors for their English and maths provision, and sector leaders had expressed concern in last week's issue that increased government expectation on delivering good results these subjects was dragging down overall ratings.
Mr Joyce wrote: "While inspectors rightly place much importance on these subjects, they do not, as suggested, exercise an 'overriding influence' on the overall judgement of a college."
He said that "a plethora of weaknesses" had been highlighted in the inadequate reports, adding: "I want to reassure colleagues working in the sector that we will never make a decision about overall effectiveness based solely on English and maths provision".
Last week, Mark Dawe, the chief executive of the Association of Employment and Learning Providers, hit out at Ofsted's inspection methods of traineeships in last week's issue.
And in light of Mr Joyce's letter, he told FE Week: "His comments are reassuring if they apply to judgements about the delivery of traineeships.
"The programme's framework makes very clear that progression to an apprenticeship, job, further learning or training is the key measure for success and both Ofsted and the Skills Funding Agency should be giving more weight to these outcomes than qualification attainment."

Gill Clipson, deputy chief executive of the Association of Colleges said in last week's story it was "unfair to expect colleges to help young people achieve the necessary grade C in GCSE English and maths in one year, when they have not been successful after 11 years in school".
David Russell, chief executive of the Education and Training Foundation, added that Ofsted was "placing more emphasis on maths and English in the 16-to-19 phase".
"It is a huge government priority, and an area where colleges have a massive challenge," he said. "Ofsted has no alternative but to say what they see."
Mr Russell also pointed out that, while funding was an issue, "the bigger challenge is recruiting, training and retaining enough teachers with the right skills and experience to teach maths and English to young people who have not yet succeeded in them".
The 10 inadequate ratings was a massive leap on the five recorded during the same period last year.
The most recent is Telford College of Arts and Technology, which had its report published on June 14.
The others are Stafford College, City of Bristol College, Mid Cheshire College of FE, North Shropshire College, Greenwich Community College, City College Coventry, Ealing, Hammersmith and West London College, West Cheshire College, and Stanmore College.
AoC and ETF said they had nothing further to add in response to Mr Joyce's letter.