End-point assessment has hit crisis point – as FE leaders warn that the first wave of learners are reaching the end of their courses without a final test in place.
FE Week has crunched the latest government stats and found 790 apprentices started on various standards in 2016/17 without an organisation in place to deliver final exams.
Added to those who began in 2014/15 and 2015/16, the total number of apprentices on courses with assessors is 1,460.
Sue Pember, the director of policy at Holex, labelled the situation "shameful", and said she is aware of many learners who have been unable to complete.
"I am hearing that apprentices have actually finished their programme but have been unable to complete and qualify because there is no end test in place," she told FE Week.
A representative for the AELP said he understood that this related to an "early-approved standard that still doesn't have an EPA ready".
Sallyann Baldry, from the Federation of Awarding Bodies, said another EPA organisation had been "very quickly contacted" after it was approved, as there were "learners waiting for assessment" – even though it had said in its submission it wouldn't be ready until next April.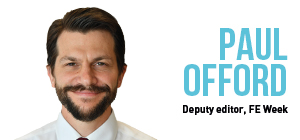 As a result, the organisation in question has "had to work flat out to tool up far more quickly than it had originally planned", and was now expecting to be ready in November.
The DfE declined to comment on the claims.
Stephen Wright, the FAB's chief executive, told FE Week that if it were true that even one learner had reached the end of their apprenticeship without being able to sit a final exam, "the credibility of the whole apprenticeship system" would be "called into question".
Teresa Frith, a senior policy manager at the AoC, said the "slower-than-anticipated progress" in finding EPA organisations was "equally frustrating for the learners, employers and colleges", but suggested that "transition issues" such as these were inevitable in the move to standards.
A spokesperson for the Institute for Apprenticeships said that "99 per cent" of apprentices were covered by assessors.
"We actively monitor apprentices' progress towards the stage of end-point assessment, and ensure there is coverage in place," he said.
"Currently 99 per cent of all apprentices who are due to complete end-point assessment within the next 12 months are covered by an end-point assessment organisation."
FE Week's own analysis of the latest apprenticeship figures shows that the proportion of starts on standards without at least one organisation in place to deliver the EPA has fallen – from 10 per cent in 2015/16, to three per cent in 2016/17.
But because the overall numbers are up, so too is the number of apprentices on courses without assessors – from 450 who started in 2015/16, to 790 in 2016/17.
Just under a third of all approved apprenticeship standards – 61 out of 194 – have yet to find a single approved final assessment organisation, while a further 57 have only one.
At the opposite end of the spectrum, some of most popular standards have multiple assessment options – including 19 for the team leader standard, which had the third highest number of starts in 2016/17, at 1,910.
Mr Wright attributed the lack of EPA organisations for some standards to "several factors".
Some are "so niche" that they are unlikely to "ever be financially viable", he said, while others "have assessment strategies that are inappropriate or impractical".