Firms taking on apprentices have been advised to stick "to their core business" — after Citroën UK became the second employer branded inadequate by Ofsted under the common inspector framework.
The education watchdog's damning verdict on the car manufacturer — published on May 27 — means that a quarter of employers inspected under the new framework launched in September have been awarded the lowest possible rating.
Questions have now been raised about government moves to encourage more employers to run their own training, with the average Ofsted rating across all eight employer providers inspected in the last nine months being a disappointing three.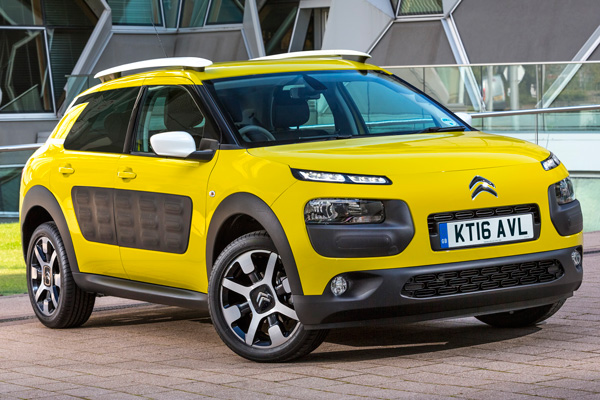 In contrast, the independent training providers averaged grade two under the common inspection framework, as FE Week revealed on May 2.
And after learning of Citroën's inadequate rating, Mark Dawe, the chief executive of the Association of Employment and Learning Providers (pictured), warned: "Those organisations engaging with the apprenticeship programme for the first time under the [apprenticeship] levy may be better off sticking to their core business and instead using the services of an experienced training provider."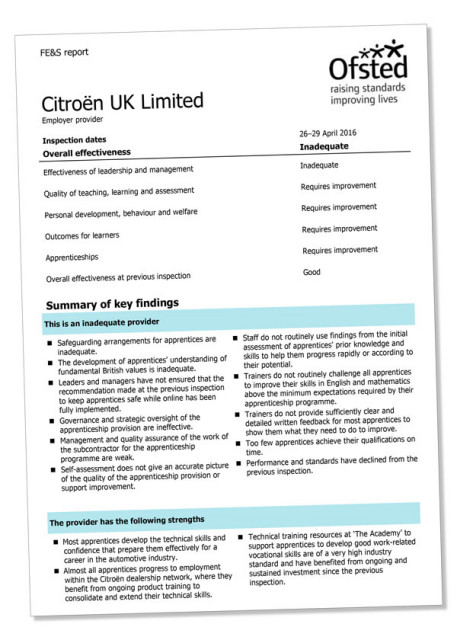 The report on Citroën, which has a Skills Funding Agency (SFA) allocation of £1.07m for 2015/16, highlighted concerns over leadership and safeguarding arrangements.
Inspectors found leaders had failed to set their subcontractor "robust and challenging apprenticeship delivery targets".
According to the SFA's list of declared subcontractors, Calex UK has a subcontract with Citroën UK worth £750,000, as of December 15.
The report urged leaders at Citroën to "implement a more rigorous approach to challenging and monitoring" Calex UK's performance.
It added: "Safeguarding arrangements for apprentices are inadequate."
A spokesperson for Citroën and its subcontractor said: "Having reviewed this latest Ofsted report, it is clear the new overall rating is due to a much greater emphasis on safeguarding, which, if judged to be ineffective, automatically grades the provision as inadequate, regardless of the quality of the programme in all other areas.
"We acknowledge and accept the need to update the safeguarding elements of the programme. This is currently being actioned and will be in place, alongside further enhancements to maths and English provision, prior to a follow-up meeting with Ofsted."
He added: "It is important to note that the majority of apprentices on our programme go on to lead an exciting career within the Citroën UK dealer network."
Pearson was meanwhile slammed by Ofsted in January for its inadequate apprenticeship provision, after the inspection team found "no key strengths".
A Pearson spokesperson said in response: "We take this report very seriously and are making further improvements in our programme so that our apprentices receive the highest possible standard of learning and support."
Next Retail was also heavily criticised last year, before the common inspection framework was launched, for its apprenticeship provision.
After being branded inadequate by Ofsted following an inspection in July, the retailer was issued a notice of concern by the SFA and temporarily barred from taking on new apprentices.
A spokesperson told FE Week it "completely accepted the report's findings and recommendations, and immediately commenced a vigorous programme of improvements".
When asked by FE Week if it would be pulling funding from Citroën following the inadequate Ofsted rating, a Skills Funding Agency spokesperson said: "We are considering Citroën UK's Ofsted inspection in line with our intervention strategy."
---
In the driving seat for government apprentice reforms
The government's apprenticeship reforms – which aim to put employers "in the driving seat" – are likely to see more employers delivering their own in-house apprenticeship provision.
The government said in its 'English Apprenticeships: Our 2020 Vision' document in December that, alongside colleges "taking a greater share of the apprenticeship training market", it would expect to see "employers offering apprenticeship training directly".
And guidance published by the Department for Business, Innovation and Skills (BIS) on the apprenticeship levy, published in April, said all employers who wanted to use their levy funds to pay for in-house provision would need to register.
It said: "We recognise that employers can be extremely successful training providers and we want to encourage those who want to take this route to deliver high-quality apprenticeships."
Asked if BIS stood by this view in light of Citroën's inadequate rating, a spokesperson said: "If an employer wants to use funds in their digital account to pay for apprenticeship training that they provide and manage, they will need to be an approved training provider."
As revealed at FE Week's Annual Apprenticeship Conference in March, the government is consulting on a new set of criteria that training providers will need to meet to be allowed to deliver apprenticeships.
FE Week understands that one of the key issues is where to set the bar, to ensure that it is sufficiently challenging but not so challenging that employer providers can't reach it.
AELP chief executive Mark Dawe called for the criteria to be "robust" but also "easily understood by applicants".
He added: "We would expect financial health to be a consideration and also the ability to deliver high-quality apprenticeships."