---
The government has launched its Trip Advisor-style review tool to let employers rate apprenticeship providers, and Ofsted intends to use the data to inform inspections.
The tool, called "what employers are saying", allows employers who have registered apprentices on the apprenticeship service to feed back on specific aspects of their programmes.
Employers rate training providers on a four-point scale, ranging from 'excellent' to 'very poor'. They can also identify the provider's strengths and weaknesses from a list, but are not able to submit any written responses.
The feedback is not moderated before it appears online, and is visible to anyone searching for a  specific training provider. Apprentice feedback is also being gathered, but the Education and Skills Funding Agency says this is in a test phase and is not ready for publication yet.
A spokesperson for Ofsted confirmed it was still establishing how it will use the data. He said the inspectorate "is in discussion with the ESFA about the sharing of information".
Speaking at a fringe event at the Conservative party conference earlier this month, skills minister Anne Milton said that allowing employers and apprentices to give "smiley faces" as reviews of training providers is a better indicator of quality than "tickbox" inspections, which she said "often miss the point".
When asked if employers who train apprentices directly will be able to give feedback on themselves, a spokesperson for the ESFA said users will be told not to give feedback if there is a conflict of  interest, and the tool's terms of reference will be updated to clarify that.
FE Week took a look at some of the reviews given to some of the country's biggest training providers.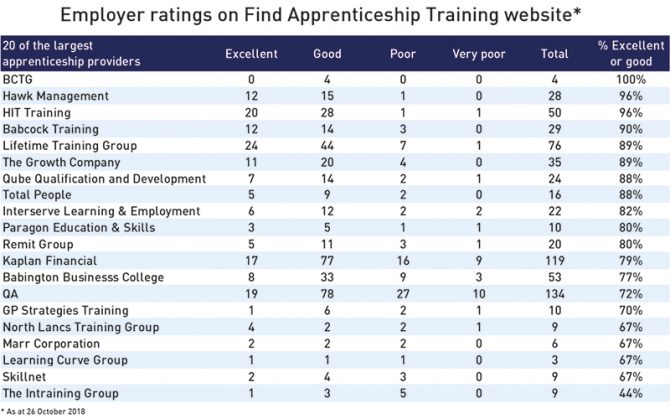 The largest, Bristol's Lifetime Training Group, had 15,210 apprentices in 2016/17, according to the ESFA's latest achievement-rate data, on a range of qualifications from hospitality to childcare.
As of October 26, it had received 76 reviews, including 24 votes for 'excellent' (31.5 per cent), and 44 for 'good' (58 per cent). Voters judged its strengths as including reporting on the progress of apprentices, communicating with employers and providing the right training at the right time.
The provider had an employer satisfaction rating of 86.4 per cent in the most recent FE Choices survey, published last week, and has been rated 'good' by Ofsted since July 2012.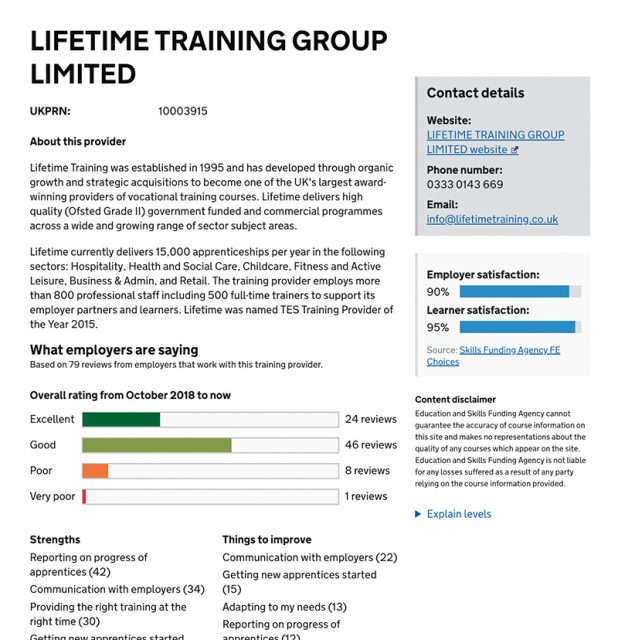 Slough-based IT and business specialist QA, which had 2,230 apprentices in 2016/17, had the most reviews of the large providers, having received 134 appraisals from employers as of October 26.
 Of these, 14 per cent (19) rated the provider as 'excellent' and 58 per cent (78) said it was 'good'. However, 27 reviews (20 per cent) judged it as 'poor', and 10 (7 per cent) as 'very poor'. Employers listed QA's strengths, including improving the skills of apprentices and its training facilities, but said it could improve on reporting on progress and communication.
According to FE Choices, QA has an employer-satisfaction rate of 85.6 per cent, and it is currently rated as 'outstanding' by Ofsted.
 Kaplan Financial, based in Manchester with 2,530 apprentices in 2016/17 on courses including law, accounting and finance, received 119 reviews. Of these, 17 (14 per cent) were rated 'excellent' and 77 (65 per cent) were rated 'good'. It also received 16 (13 per cent) 'poor' reviews and nine (7.5 per cent) 'very poor' reviews.
Employers were most impressed by the provider's facilities and ability to get new apprentices  started and to work with small numbers of apprentices, but said it could improve on communicating and adapting to the needs of employers.
In comparison, Kaplan Financial – which is rated 'requires improvement' by Ofsted – had a lower employer satisfaction of 74.6 per cent in the FE Choices survey.
Finally, the tool has been positive for West Sussex's HIT Training, which specialises in hospitality and catering and had 8,460 apprentices in 2016/17.
Of the 50 reviews the provider has received, 20 (40 per cent) rated it as 'excellent' and 28 (56 per cent) as 'good'. HIT Training received an  employer satisfaction rating of 94.2 per cent in the FE Choices survey, and is rated 'good' by Ofsted.