As it turned out, my exclusive interview with the new apprenticeships minister Robert Halfon was conducted just hours after the Independent, Guardian and Mirror had all reported a major government U-turn on apprenticeship rates.
"People are saying this is a U-turn, but actually I would describe it as listening with elephant-sized ears," he volunteered – before the questions had even begun.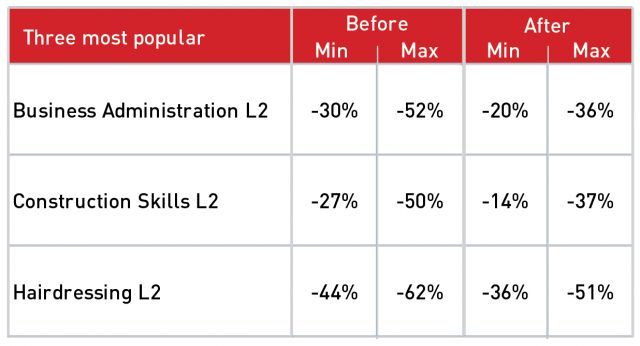 "I made it clear to you when you had the big [FE Week] event in parliament. I made it clear at party conference. I made it publicly clear in articles that we have listened –and that's what my job is to do. The whole purpose of it was that it was a survey and a consultation, and so we've responded," he said.
"FE Week, given what you've been up to, has been an incredibly important part of that consultation."
That morning the government had announced that massive proposed cuts to the 16-18 apprenticeship framework rates would be softened by two measures: by increasing the £1,000 provider incentive with cash worth 20 per cent of the relevant funding band, and by adding £60 million to funding for providers for apprentices who live in a deprived area, or up to £600 per apprentice.
The minister, who appears uncomfortable with formalities, insisting I call him Rob, argued that when he "kept going on about social justice", it wasn't just warm words, and that this rethink shows he "really meant it".
"FE Week, given what you've been up to, has been an incredibly important part of that consultation."
Could he provide any reassurances that these new measures won't be scrapped after 12 months? Not quite:
"The framework 20 per cent is a transitional measure and the idea is to help the providers adapt," he said.
"It will reduce over time as the new standards come through."
As for the disadvantage funding, this £60 million is "for one year", he said, adding: "I am doing, again as part of my agenda on social justice, a serious review which will report sometime next year on what is genuinely the best way to incentivise, encourage and help disadvantaged people to do apprenticeships."
Moving on to the apprenticeship levy, I asked him whether he thought large employers would look to use their whole levy pot, as was suggested in DfE research published the same day – a situation which would leave precious little funding available for smaller employers.
He was quick to dismiss the DfE's research, saying: "I completely utterly reject that proposition, because I meet employers when I go all over the country. Some large employers say they love it, and they're going to have apprenticeship; others just say they won't.
"The treasury and others did serious studies to make sure the money was available. You know about all the incentives there are for smaller businesses to take on apprentices, which are guaranteed by the government, so I don't think there is any evidence to say that this money won't be there for smaller employers."
He continued: "Obviously we always keep everything under review, and we'd work out what to do if that occurred, but I completely reject that it is going to happen, because there are many employers who don't want to take up apprentices and many who do – and that is the whole purpose of the levy."
In next week's Editor Asks…part two, we tackle whether employer ownership of apprenticeships is compatible with social justice, the lack of assessment organisations, subcontracting, and whether the CBI is right to be concerned about timescales.