Management has soared in popularity to become the second most common apprenticeship framework, FE Week analysis can reveal.
According to statistics released by the DfE, the management framework had 46,640 new starters in 2016/17, a figure which grows to 64,480 when counting standards (see full figures at end of article).
The data shows management has narrowly overtaken the business administration framework in popularity, while health and social care still reigns supreme with more than 85,000 new starters last year.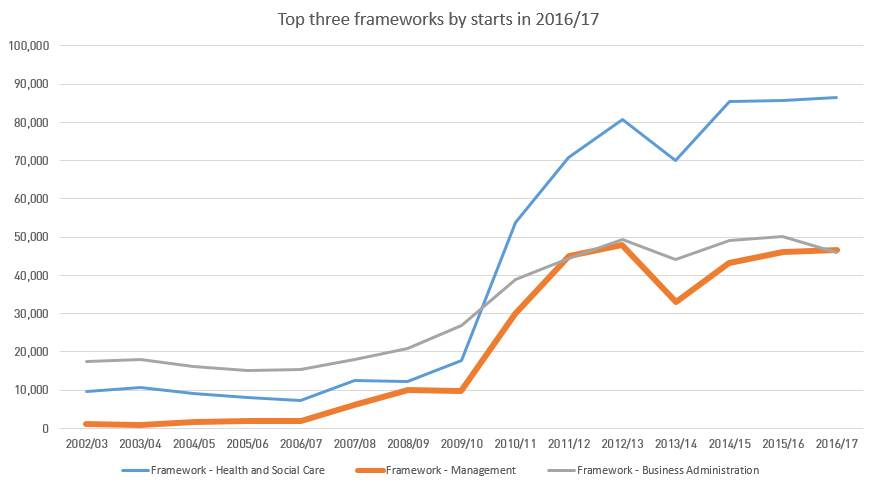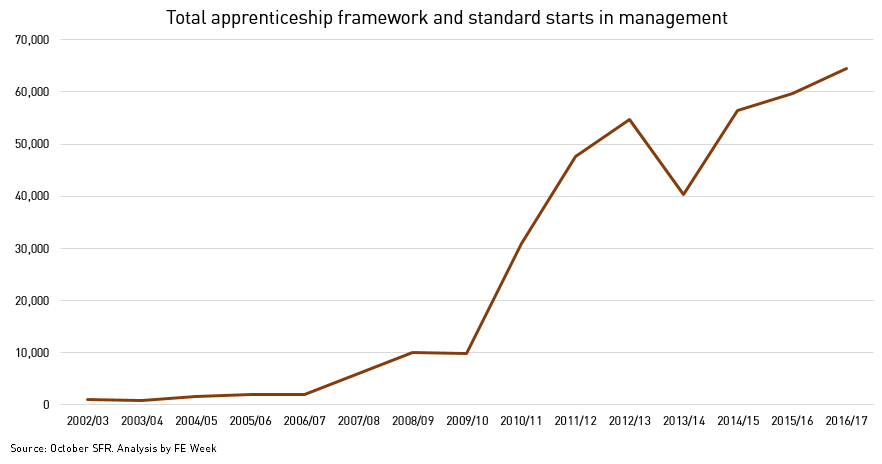 These figures will only give further validation to concerns raised by sector figures that the government's new apprenticeship levy, which started on May 1, would encourage businesses to draw down funding for management courses for existing employees instead of offering lower level apprenticeships to young people.
The question of the apprenticeship levy being used to fund executive MBA's was mentioned at a public accounts committee meeting on October 12, when chair Meg Hillier MP raised a concern about companies trying to use the qualifications to "get a chunk of the apprenticeship levy back".
The interim chief executive of the Institute for Apprenticeships, Peter Lauener, told the committee it had been expected that businesses would use the apprentice levy to pay for higher and degree apprenticeships, which he described as "a rapidly growing element of the programme".
He said: "Levy paying employers will be able to fund any degree apprenticeship standards that have been approved.
"It's certainly the case that that levy paying employers can use their levy to pay for degree apprenticeships.
"We've done a lot of modelling, as you would expect, about the levy budget and it's quite difficult modelling to do because there are so many variables that might be changed by the changed behaviour of employers paying a levy.
"But we certainly modelled an expectation that there would be an increasing number of degree apprenticeships in the system as a result."
DfE permanent secretary, Jonathan Slater, added: "This is very early days in the new levy and we are watching it closely.
"The [public accounts] committee at a previous hearing was keen to make sure there was a definite switch from level two apprentices to three, four, five and six. That's what is happening. We need to make sure that is manageable.
"I wouldn't be at all surprised if we found that some of the early assumptions we made are a bit different from the reality. We will keep that under review and we will be happy to report back as we go."