The Department for Education has been forced into an embarrassing U-turn by dropping "secret" plans to ban thousands of eligible jobless people from taking part in skills bootcamps.
The DfE has also launched an investigation into how the plans, laid out in a document sent to 18 providers and over 100 of their partners (see photo), were leaked to the media.
Announced by the prime minister Boris Johnson in September 2020, bootcamps are typically three-month courses at level 3 and above and form part of a number of new flagship adult education policies.
As reported by FE Week, the bootcamp providers were refusing to sign contracts after finding out the DfE would be paying research consultants to randomly reject half of all eligible applicants.
In a randomised control trial (RCT), rarely used in the education sector, the Institute for Employment Studies would take at least four weeks to "randomly select candidates for you from your qualifying candidates list and inform you of who is receiving [bootcamp] training and who is in the control group".
The DfE "delivery requirement" presentation, sent to winners of the £18 million bid, also spelt out that they must "not offer bootcamp training to any candidates in the control group for at least a year after they have been assigned to the control group, even if they ask/get referred again".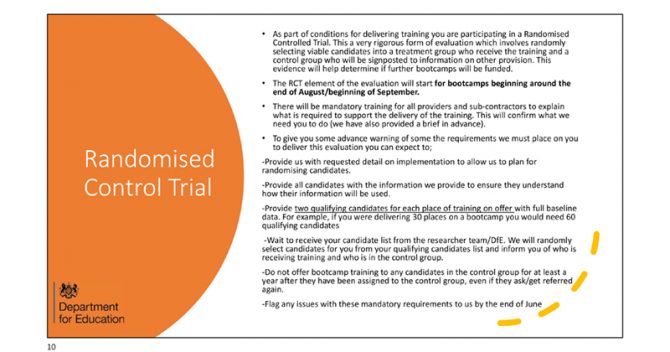 But with the "secret" RCT plan now revealed in FE Week the DfE is now telling providers they will scrap the RCT plan completely.
And after repeating their plea for providers to not speak to the media the civil servant revealed an investigation had been launched into how FE Week was leaked the RCT plans.
Several providers approached FE Week with similar ethical concerns about the DfE researchers spending weeks to randomly separate the unemployed applicants into this "treatment group" and a "control group".
The DfE refused to comment on, or defend, the ethics of the research approach.