Training providers have branded "ridiculous" the overdue news that many of their 16 to 18 apprenticeship and traineeship growth requests have not been funded in full by the Skills Funding Agency (SFA).
The SFA announced today that it had awarded an additional £25m to colleges and training providers to deliver 16 to 18 apprenticeships – but there was no extra cash for 16 to 18 traineeships.
The announcement, which should have been made on January 8, is in response to growth requests submitted by providers to help fund apprenticeships and traineeships in 2015/16.
It comes just a week after FE Week exclusively revealed that the delay in confirming the growth requests was due to an overspend by the Department for Education.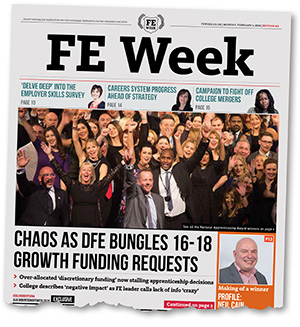 Stewart Segal, chief executive of the Association of Employment and Learning Providers, said he was "very disappointed" at today's announcement.
"This will also mean many young people will not be able to take up their apprenticeship opportunities. When we are looking to engage more employers to deliver the target of 3m apprenticeship starts, this decision not to fund growth will put out a negative signal," he said.
"Providers have made a significant investment in generating this additional interest and can ill afford this stop-start approach to developing the programme," he added.
"The position on traineeships is even more disappointing as the programme is still in its early stages and needs continued support to establish the credibility of the programme," Mr Segal said.
FE Week understands that many providers have been left short-changed by today's announcement, with some providers receiving significant less than what they asked for.
@FEWeek @NickLinford Just rec'd 16-18 Growth reqst feedback, we've only got 50% of P1-8 & 0 for P9-12-I'm furious!19+ apprvd but not 16-18!?

— Corrina Hembury (@CorrinaHembury) February 5, 2016
Corrina Hembury, managing director at Access Training, based in Nottingham, said they had received just over half of their 16 to 18 apprenticeships growth request for the period from August to March, and zero of what they'd requested for the period from April to July.
She had been told by her SFA adviser that "I've actually done quite well compared to a lot of other providers that he looks after", she said.
"It is ridiculous that we're in a state where the government have set a target of 3m apprenticeships and there is a commitment to train more people and help move them into employment and they are now putting that at risk and not funding things," Ms Hembury said.
Today's announcement "means we have no capacity for any new 16 to 18 apprentices" until around April, she said.
"We'll continue to support all the learners we currently have on programme now, and obviously we don't want to not engage any new ones.
"We need to look at balancing that risk of disengaging learners and employers from apprentices altogether with us having to start working with and potentially not being able to draw down funding for them. Which is a tough decision," Ms Hembury said.
One provider also took to Twitter to vent her anger. @Bmcleish01 said: "we have sig volumes of learners now without funding! 3m apps target is a joke without funds".
Another training provider has told FE Week their 16-18 apprenticeship growth request was over £1m and they have been awarded less than 10 per cent of that figure.
Teresa Frith, senior skills policy manager at the Association of Colleges, said: "It is very disappointing that the funding they are providing to colleges for isn't large enough or flexible enough to cope with demand.
"A priority for the Skills Funding Agency must be to learn from this in developing the new system which comes into effect with the introduction of the levy in 2017."
In a statement, the SFA said: "We assess all provider growth cases to ensure they secure high quality opportunities for young people. Where we are able to support increases in funding we allocate this equitably to providers. The process for doing this is set out in our Operational Performance Management Rules.
"We have made it clear, that the funding we have been able to allocate, will enable all apprentices who had started their apprenticeship (at the time providers submitted their growth requests) to be funded."