The Government is propping up colleges to the tune of £100m, the Association of Employment and Learning Providers' (AELP) has revealed.
AELP chief executive, Stewart Segal, said he was looking forward to college finances improving significantly through the Government's post-16 area reviews.
He added that he hoped "we can save much of that £100m going into the sector to make sure it can continue" because of this.
FE Week asked the SFA about the £100m after hearing this.
An agency spokesperson did not deny that the Government had told sector stakeholders, including AELP, about the bailout figure before Christmas.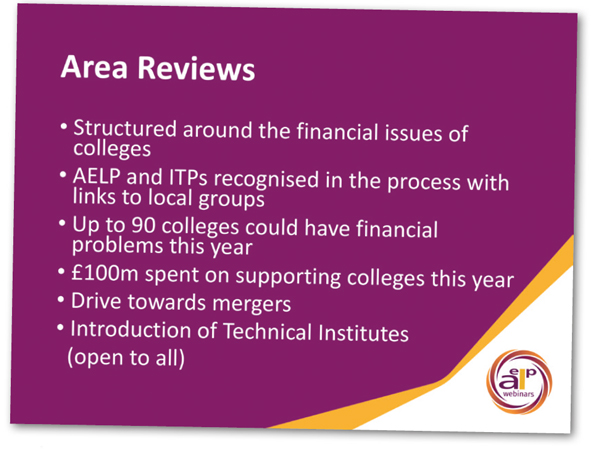 It did, however, say that the figure was "out of date", but declined to provide a new one.
Mr Segal also said during the same webinar on January 26 that "various reports suggest up to 90 colleges may fall into the [serious financial difficulties] category" (see right).
This would represent a big increase on the 50 that FE Week reported in February last year could be in serious financial difficulty, due to a "perfect storm" of capital debt and 16 to 19 funding cuts.
Dr Lynne Sedgmore, then-executive director of the 157 Group, said at the time that the figure was a "sector rumour".
Part of the problem, she added, was that SFA predecessor body the Learning and Skills Council had "encouraged" colleges to "take on ambitious capital redevelopment programmes".
"Since colleges have to finance a major part of their capital development themselves, many have high borrowings and now face a 'perfect storm' as funding rates have been repeatedly cut for 16 to 19-year-olds in recent years and funding numbers slashed for adult provision," said Dr Sedgmore.
When asked about the £100m figure mentioned by Mr Segal, an SFA spokesperson told FE Week: "These are out of date forecasting figures. We will reassess the position when we have financial plans later in the year."
"We will soon be publishing a list of colleges under notice of concern and providers under a breach notice," she added.
"The SFA considers FE college exceptional financial support on a case-by-case basis, depending on the type of exceptional financial support requested."
Notices of concern are issued in response to SFA concerns over a college's financial health and trigger interventions from the FE Commissioner. The agency issues breach notices if providers fail to meet terms of its contracts.