Ahead of David's first three-day AoC annual conference as chief executive, we discuss the area reviews, our ministers and the need for positivity.
 "In a way, it being my first conference isn't particularly important," he tells me.
"What's more important is that we've got a new government and we've got a new secretary of state and we've got new ministers. And it's their first conference, and it's superb we've got Justine Greening and Robert Halfon, we've got Lord Sainsbury and we've got Richard Atkins, the new FE Commissioner. We've got a superb cast of people."
David clearly wants the new ministers to see positivity from principals.
"I'm really keen we present a very confident and ambitious front for colleges, saying what we can do rather than just diving in to all the problems," he says. "Because there are all sorts of problems at the moment. It's a sector that's had a lot done to it. It's had a lot of stress. The funding cuts have been profound. But actually I think we need to look beyond that and start setting the agenda, rather than being victims."
"I think we need to start setting the agenda, rather than being victims"
I press him on whether this was a plea for conference delegates to be upbeat, particularly on Thursday, when both Justine Greening and Robert Halfon will be giving speeches that are likely to feature the Post-16 Skills Plan – and general positivity about the role of colleges.
"I think there will be some scepticism, because people have been hit by funding cuts and area reviews." he admits.
"There're all sorts of challenges around English and maths, for instance, and the apprenticeship changes are profound, and I want Justine Greening to acknowledge that those exist. I'm not for one minute saying to people, don't mention the things that are urgent, difficult, challenging now – but if you can, do that as well as look to the long term, because there are opportunities," he says.
"I genuinely think we've got a secretary of state and FE and skills minister who really get FE and colleges, and want to help set out a space for further education and colleges within the education system, and change the machinery of government to bring it all into one place – some saw it as a risk. I always saw it as more of an opportunity."
Also speaking at the conference is Richard Atkins, the former principal at Exeter College and a previous AoC president, who this month took up the reins as the FE Commissioner.
I ask what he hopes the message Mr Atkins' message will be, at a key time in most of the five area review waves.
"I think Richard will be trying to get that balance that says area reviews aren't going to go away, and we're going to finish them," he says. "There're only five or so months to run, and I think that's important. Let's get through them now. We're right in it. I think he might tweak some of it, he might do it a little bit differently from David [Collins, the outgoing FE Commissioner]."
What does he think Atkins might do differently?
"Well, there's a transparency issue that David Collins hasn't been able to do, because ministers change and the delays in the reports have been bit unhelpful. Hopefully they can speed that up and move things forward more quickly," he tells me.
"But more importantly I'd like him to talk about where he thinks that takes the sector, post area review. There is a sense that with one bound the sector is suddenly sorted for the next 25 years and there will be no more problems, no colleges getting into financial difficulties, and I think that's very unrealistic," he says.
In our next edition, David tackles questions about value for money in the area review process, along with the outcome of his review of AoC, including the future of the regional structure and what he will do differently.
______________________________________________________________________________________________________________________
AoC regions and their directors
Steve Sawbridge – West Midlands: Mr Sawbridge has held a range of management roles in colleges and worked as a freelance consultant. He worked with the Learning and Skills Council on policy and strategy and on business planning in the FE sector, and as head of strategic partnerships at the Quality Improvement Agency for Lifelong Learning.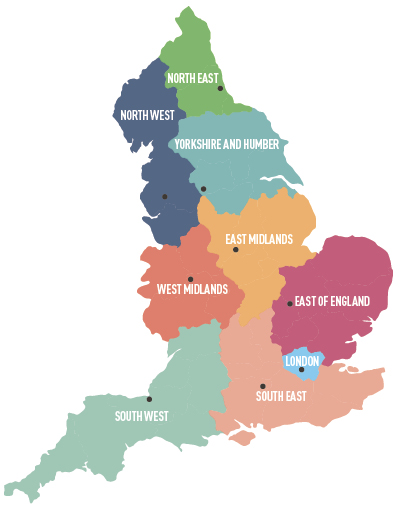 Gillian Miller – North East: For 13 years prior to her appointment in 2014, Ms Miller worked at a senior level in the Learning and Skills Council and its successor organisation the Skills Funding Agency, most recently as area director. Prior to that, she was head of economic development for a local authority in the north east.
Ian Munro – South West: Mr Munro taught and managed in FE before moving into senior leadership. He is also the national AoC policy lead for sustainability, working closely with the organisation's Sustainability Portfolio Group. He is co-director of the newly-formed Hinkley Point Training Agency, a collaboration of colleges and independent training providers.
Mary Vine-Morris – London: Ms Vine-Morris has over 25 years' experience of the management of adult education, FE, work-based learning and social and economic
regeneration. She has worked with partners in London's education and business sector to provide strategic leadership of post-16 learning across the capital.
Richard Caulfield – North West: Before his appointment in December 2014, Mr Caulfield was chief executive of Voluntary Sector North West for seven years, a regional umbrella body for the voluntary sector. Prior to that, he held a number of senior roles in both the voluntary and private sectors, including time at the NUS.
Caroline Rowley – Yorkshire and the Humber: Ms Rowley joined the AoC in 2003 from the National Museums Liverpool where she was head of education for the eight museums and galleries in Liverpool. Before then, she held roles at education charity Campaign for Learning, Lancashire College and North Trafford College.
Paul Eeles, director of EMFEC (affiliate organisation covering AoC's East Midlands region): Mr Eeles has over 29 years' experience of working in FE. As well as his role at AoC, Paul is also chief executive of the Skills and Education Group, consisting of ABC Awards, ASDAN and EMFEC. He was recently appointed chair of the Federation of Awarding Bodies.
Andrew Thomson, chief executive of Association of Colleges for the Eastern (affiliate AoC organisation): Mr Thomson is a former college principal who went on to lead the Learning and Skills Development Agency and then the Quality Improvement Agency, before working as a consultant in industry and FE.
Pamela Lumsden, chief executive of the Association of South East Colleges (affiliate AoC organisation): Ms Lumsden has been chief executive of AoSEC since November 2012. Before this, she worked for various organisations, including the Learning and Skills Improvement Service, the National Institute for Adult Continuing Education, Ofsted, OCR and the Open College Network.