The government has today published for the first time employment and other 19+ learner outcomes for FE and skills providers — and Darlington College has the highest job outcome rate of all general FE colleges. Click here to see full report for Darlington College.
The data from the Department for Business, Innovation and Skills (BIS), for learners at all Skills Funding Agency-funded providers that completed in 2010/11, comes as part of a consultation on proposed new success measures from 2016/17.
However, BIS itself, along with the Association of Colleges (AoC) and the Association of Employment and Learning Providers (AELP), has urged caution over the use of the "experimental" data, which also covers progression within learning and earnings.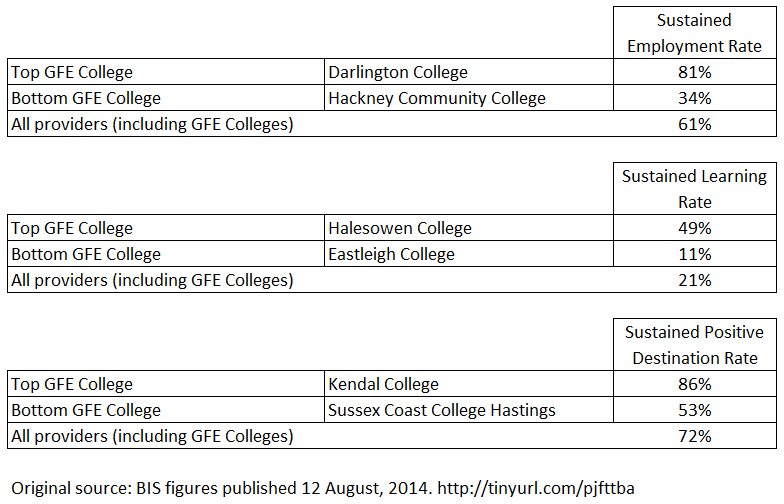 Skills Minister Nick Boles said: "This country needs high quality post-19 education and training that equips learners with the skills employers need and value. This data and consultation is an important step in recalibrating the way we think of success in FE.
"Simply gaining a qualification is not the reason learners enter education and therefore should not be the sole measure by which we determine success.
"Instead we need to look at where education leads — whether that's employment or further study. We need to be scrutinising not only how well FE providers deliver learning, but also what that learning achieves. By using a more holistic measure of success, we are working to incentivise providers to stretch and challenge students."
The proposals for the new success measures for publicly-funded post-19 education and skills, excluding higher education, are laid out by BIS in a 12-question consultation, which opened today and is due to close on October 10.
Joy Mercer, director of education policy at the AoC, said: "It is seldom possible to sum up success in a single measure, particularly when colleges serve so many different students in so many different circumstances, and we support the use of a range of ways to identify success.
"Anything that helps students of all ages to make properly informed decisions as to which course and institution in which to invest their time and effort will be worthwhile.
"The publication of this data is also useful to colleges, who currently have to spend time and money finding out what happens to their students. This will help save money — at a time when they have seen their funding for adult students cut by 25 per cent.
"However, the government must be careful not to confuse helpful data on which courses can lead to better employment prospects, with expecting colleges to have direct responsibility for job success.
"Some colleges are operating in the most deprived areas where jobs are scarce, and the government must accept that there are a whole range of local stakeholders, in particular Local Enterprise Partnerships, who also play a key role in creating new employment opportunities."
An AELP spokesperson said: "We welcome the use of data if it is offering a broader view of how success is measured, providing that the information is accurate and up to date.
"But it's important that the data needs to be reviewed in context; in other words, it's not right to set absolute targets because learner cohorts vary so much. Nor would we want to see tables and rankings based on data only. We should be very cautious about how the data is used."
Within the documentation released, it said: "These measures are experimental, and have been published for transparency as well as to develop an initial view of how to make full use of them to support the FE sector.
"This publication provides the headline outcomes for destinations and progression, and also showcases some features of the data that are important for their interpretation. The type of provision offered and the clientele that providers work with are just two of the considerations that should be taken into account to understand that a low rate does not necessarily equate to poor performance. Therefore it is not recommended to use the data to compare provider performance at this stage."
A spokesperson for the Department for Business, Innovation and Skills (BIS) said: "The measures will not impose any additional data collection burdens on training providers, employers or members of the public as they will be based on robust and statistically valid matching of currently collected administration datasets from across BIS, the Department for Education, the Department for Work and Pensions and Her Majesty's Revenue and Customs."
At the time of going to press, no individual providers had been contacted.