The education secretary didn't deny that the apprenticeships budget is heading for a £500 million overspend this year, when he was quizzed about it by FE Week.
Damian Hinds was asked whether he acknowledged the Institute for Apprenticeships' concern, revealed in a presentation by its chief operating officer Robert Nitsch last week, that "we are heading into an overspend" on the budget.
"In my line of work it is a daily discipline looking at budgets and how you are managing them and how you make sure they are working," Mr Hinds said in response.
"The sorts of things you're talking about can only be projections," he added.
"I didn't write the presentation that you're referring to so I can't really comment on it further, but we will obviously be continuing to manage our budget across all areas while continuing to make sure that we are supporting the growth of the apprenticeship scheme."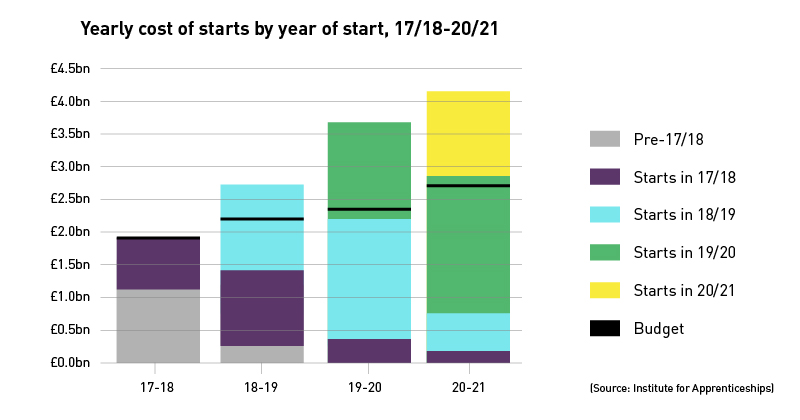 According to the figures, which were presented during an employer engagement event at Exeter College on Friday, the cost of starts in 2018/19 is projected to be £500 million higher than the £2.2 billion budget for the year.
By 2020/21 the shortfall is set to rise to £1.5 billion, with costs rising to £4.1 billion against a budget of £2.6 billion.
The Department for Education has so far not commented on the figures, beyond calling them "inaccurate".
But on Tuesday, skills minister Anne Milton said she will "look at whether it is right to continue to fund all apprenticeships" – particularly "for people who are already in work, people doing second degrees".
The rise in these high-level, high-cost apprenticeships, including management degree apprenticeships, is understood to be behind the budgetary pressure.
The IfA itself told FE Week the slide at the presentation was intended to show that levy contributions may not be enough to cover the full cost of apprenticeships if numbers continue to rise.
It said that both its chief executive, Sir Gerry Berragan, and Ms Milton had both referred to this overspend before, although it is not clear when.