Learner numbers have dropped at around two thirds of established university technical colleges this academic year, an FE Week investigation has found.
We submitted freedom of information requests to the 26 UTCs that opened in 2014 or before, asking for their 2016/17 student numbers.
FE Week analysis of their responses (see the full breakdown in the table below) showed student numbers had fallen this academic year at 13 of the 20 UTCs that provided data. Further to this, 11 (55 per cent) revealed they are still at less than half capacity.
The findings will heap pressure on ministers to scrap the controversial project, driven by Lord Baker (pictured above), just two years after the Conservative Party pledged to establish a UTC "within reach of every English city" in its 2015 general election manifesto.
Lincoln UTC experienced the biggest drop in student numbers, falling from 302 in 2015/16 to 214 this year, a drop of 29 per cent.
Its principal Paul Batterbury said the decline was a result of the local council cutting free transport for students who attended the college – many of whom live outside the catchment area – this year.
Sir Charles Kao UTC, in Essex, experienced the second largest drop in students, from 177 to 142, a fall of 20 per cent.
In third was Leigh UTC, which saw numbers dip from 230 to 191, while Elstree UTC in Borehamwood fell from 413 to 341. Both experienced a decrease of 17 per cent.
Sir Charles Kao, Leigh, and Elstree UTC were unable to comment before FE Week went to press.
Energy Coast UTC, which received a financial notice to improve last month for outsourcing its teaching at a cost not deemed "value for money", had a 15 per cent drop from 306 students last year to 260.
Its principal Cherry Tingle said reasons for the fall included concerns from parents that the UTC had three interim principals last year, until she joined permanently last September.
UTC Plymouth was found to be the emptiest of the colleges, operating at just 24 per cent of capacity.
Next was Buckinghamshire UTC, which has just 148 students on roll despite a capacity of 600 (25 per cent).
Neither college would comment.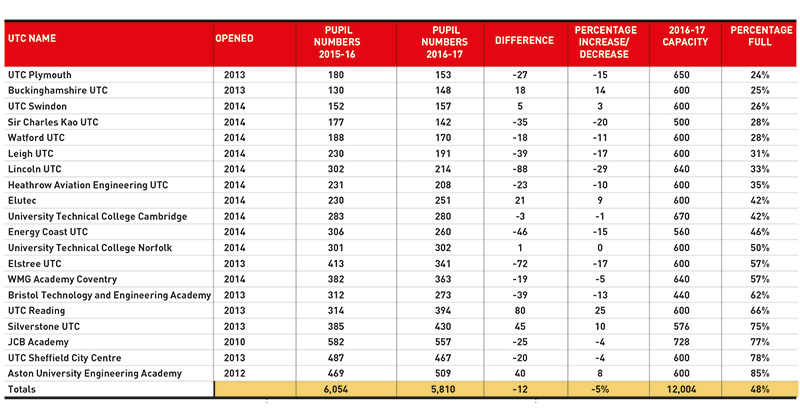 Malcolm Trobe, the deputy general secretary of the Association of School and College Leaders, said the UTC project needed more strategic thinking.
"UTCs and the curriculum they offer need to be part of an overarching area wide strategic plan for student places," he told FE Week.
"This would involve secondary schools, sixth form colleges, and FE colleges. The whole provision needs to be thought out strategically to ensure that youngsters within a region have access to the full range of curriculum possibilities."
Even Michael Gove, the former education secretary and a key architect of the UTC programme, admitted earlier this year that "evidence has accumulated" that the experiment with 14-to-19 technical institutions had failed.
Seven UTCS have closed, or announced plans for closure, amid dwindling pupil numbers.
Around £10 million was spent on establishing each of them.
Sixty per cent of UTCs visited by Ofsted have meanwhile been given 'inadequate' or 'requires improvement' ratings.
A spokesperson for the Baker Dearing Educational Trust, which holds responsibility for overseeing UTCs, admitted it is "taking longer to fill UTCs than we would like".
"Recruitment for most schools is improving steadily each year as the programme becomes more established," she said. "It is indeed challenging for UTCs to recruit at 14, as the concept of transfer at this age is not what parents are used to."
The six UTCs that were unable to respond to our FOIs before publication were Daventry, Liverpool Life Sciences, The Greater Manchester Sustainable Engineering, Tottenham, Lancashire, and Bolton.