One of the most popular – and controversial – apprenticeship standards is celebrating its third birthday today.
The chartered manager degree apprenticeship's anniversary is being marked with an event in parliament, hosted by the Chartered Management Institute – with speakers including the boss of the Institute for Apprenticeships.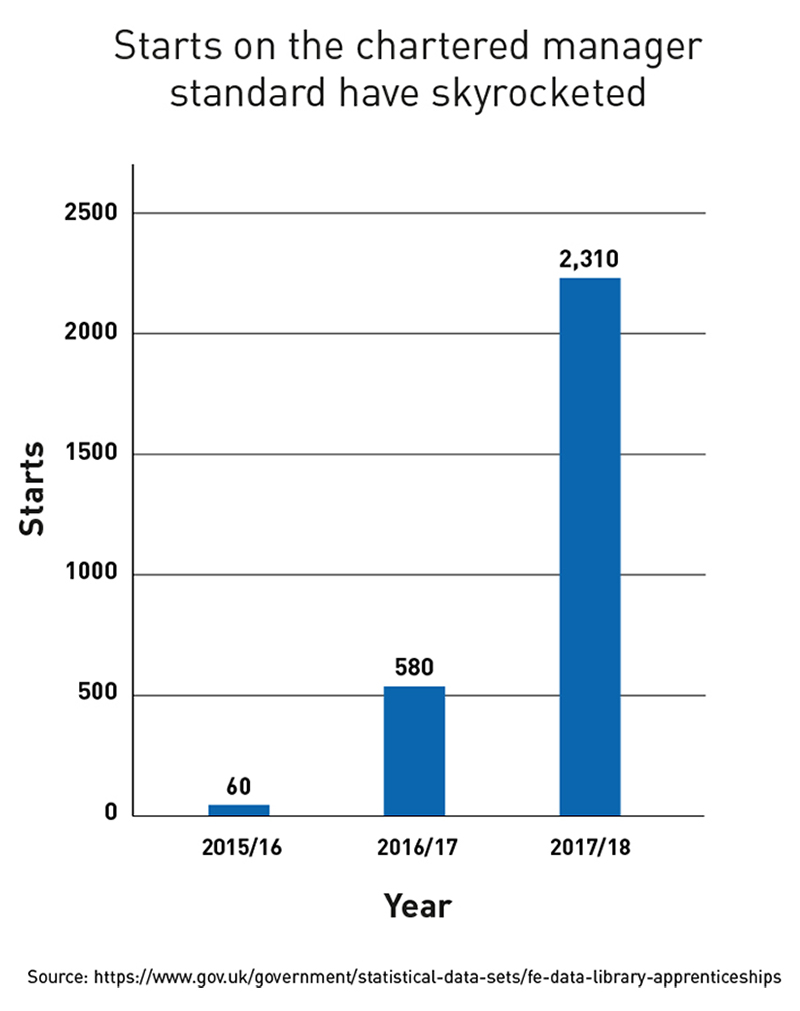 Starts on the standard have grown massively in the three years since it was launched, and it's now the most popular degree-level apprenticeship.
But it's also come in for criticism – with detractors including Ofsted chief inspector Amanda Spielman raising concerns that it's simply "rebadging" existing employee training schemes, and diverting vital funding away from young people at the start of their careers.
Sue Husband, director of employer and employee engagement at the Education and Skills Funding Agency, is among those on the apprenticeship.
Speaking to FE Week during last year's EuroSkills in Budapest, she said the course was "tough" and "challenging" but it had "huge benefit".
"My boss was saying the other day she can see me thinking differently and offering better results," she said.
Ms Husband is doing her apprenticeship with the Open University, which has had the second highest number of starts on the standard to date, according to DfE figures.
She's one of a cohort of "about 20" from the DfE, which she said was "great" as "we can discuss progress and vent and support".
"I'm enjoying learning again. I'm confident I will pass and my tutor is too," she said.
The standard was approved in October 2015, and in that first year it saw just 60 starts, according to Department for Education figures.
But by 2017/18 that had risen to 2,310 – more than any other level six apprenticeship.
Those figures represented 1.5 per cent of the 163,700 starts on standards for the year, making it the 22nd most popular of all apprenticeship standards, regardless of level.
Other top providers, alongside the Open University, include Manchester Metropolitan University, Anglia Ruskin University, QA Limited and Sheffield Hallam University, who between them account for almost half of all starts on the standard so far.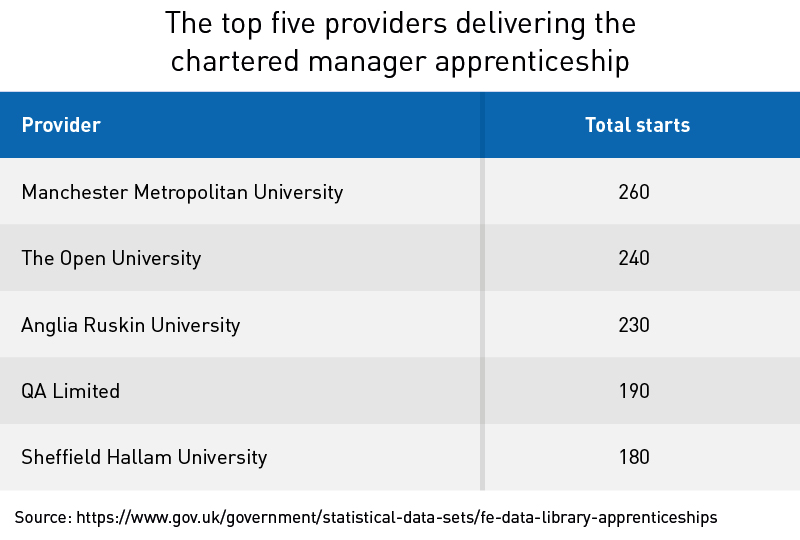 The manager degree apprenticeship is one of the most expensive, with its funding band initially set at the maximum – £27,000.
That was cut to £22,000 following the IfA's funding band review last year, with the reduction set to take effect from March.
More than 150 employers joined forces with the CMI and the employer group behind the standard in an unsuccessful appeal against the "extensive and highly-damaging cuts".
The rising number of starts on expensive standards such as the chartered manager degree apprenticeship is understood to causing pressure on the apprenticeships budget, with the IfA warning of a potential £500,000 overspend this year.
Ms Spielman voiced her concerns that "levy money is not being spent in the intended way" during the launch of the Ofsted annual report in December.
"We have seen examples where existing graduate schemes are in essence being rebadged as apprenticeships. This might meet the rules of the levy policy, but it falls well short of its spirit.
"We hope the government will give greater thought as to how levy money can be better directed at addressing skills shortages."
Just a day later the skills minister Anne Milton admitted that the government would need to "look at whether it is right to continue to fund all apprenticeships" in the future.
"We will need to look ahead, when the system is really running well – and I think we're nearly at that stage – when we need to look at do we continue to fund apprenticeships for people who are already in work, people doing second degrees," she said in an interview with Association of Colleges' boss David Hughes.
Speaking in November 2017, IfA board member Dame Fiona Kendrick said that a focus on management apprenticeships "at least in the short- to middle-term" has "got to be good for the overall country".