Confusion surrounds the skills minister's view on college and private provider partnerships, after FE Week discovered that her published speech for the Association of Colleges conference contradicts what she actually said.
Anne Milton told over 1,000 delegates on Tuesday that she wants to see "more and more apprenticeship training being offered by colleges and where possible, possibly in collaboration with independent training providers".
It made a change to former skills minister Nick Bole's message to the conference three years ago in which he told the audience to stop letting private providers "nick your lunch".
The new stance was met with fanfare from AELP boss Mark Dawe, who in his weekly members' newsletter said: "The other great change in language was we didn't hear any of the previous nonsense about 'eating your lunch' – instead there was a clear message about collaboration with ITPs – I nearly fell off my very comfy ICC seat!"
However, the Department for Education has since published the skills minister's written speech, and it sends a completely different message.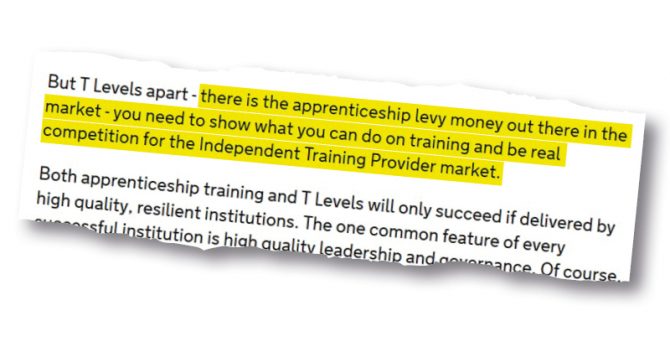 "There is the apprenticeship levy money out there in the market – you need to show what you can do on training and be real competition for the independent training provider market," it says.
FE Week has listened back to the speech and found that the minister followed it nearly word for word, but missed out a couple of sentences, including this one about encouraging competition.
Her actual words at conference about encouraging collaboration were not included in the published speech.
It appears the minister had a last minute change of opinion, which will leave the sector wondering exactly what the Department for Education wants when it comes subcontracting.
Mr Dawe said: "Officials advise, ministers decide and it's about time some officials moved on and recognise that there has been a change in line under this minister as has been clearly shown in her previous speeches and appearances before select committees."
You can read Ms Milton's full published speech here.