Sector leaders have reacted with concern to a "tight" Skills Funding Agency (SFA) timetable for handing out £650m of delayed European Social Fund (ESF) cash — with delivery completed in just 18 months.
It was exclusively revealed on feweek. co.uk that the SFA was planning to run a "sequence of procurement" that must be finished by the end of September next year at the very latest to allow a minimum delivery period of 18 months (see timeline below right).
The delivery period, up to March 2018, was determined with ministers unable to say the SFA would oversee anything other than apprenticeships beyond then.
It follows a summer in which ESF-funded providers were forced to lay off staff amid delays in issuing 2014-202 contracts as the government sought to iron out regional devolution issues with local enterprise partnerships (Leps).
Stewart Segal, Association of Employment and Learning Providers chief executive, said: "These further delays will mean that the gaps in provision for those people who need the most help continue.
"The shortening of the timescales also means that these complex and often expensive tendering processes need to be managed effectively.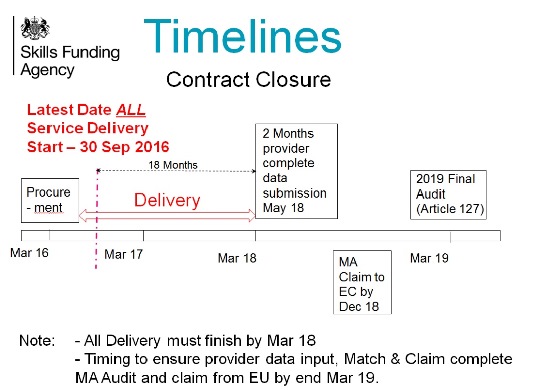 "The SFA, DWP and the Leps need to work closely with the sector to make sure the tender process is clear, simple and transparent."
He added: "We now need a clear timetable from the funding agencies to allow providers to put their bidding plans together."
An Association of Colleges spokesperson said: "It took longer than expected to get EU sign-off for the UK ESF programme so there's a good case for pushing ahead with procurement.
"Ideally, the government would consult on its devolution plans via a green paper so issues like this can be properly discussed in advance."
Details of the timetable featured in a letter, leaked to FE Week, to Lep and European Structural and Investment Fund (ESIF) committees from Mike Bell, SFA deputy director for localism policy implementation.
"The attached timeline shows the tight deadlines we will have to meet so that all contracts are at least 18 months long," he wrote.
He said the SFA would, however, introduce a "simplified procurement initiation document which will capture the required local input to be inserted into themed specification frameworks".
"We will work … to ensure the local input fully reflects requirements as we draft the specifications so that they can be finalised and approved without any undue delay," he wrote.
"We believe this approach enables us to ensure minimal disruption in the transition of skills budgets to localities."
An SFA spokesperson said it had nothing to add to Mr Bell's letter in response to timescale concerns.