"Outstanding" GCSE English results have helped a formerly 'inadequate' sixth form college surge to 'good' in less than 18 months.
A hundred per cent of Hartlepool Sixth Form College learners entered for GCSE English achieved a grade C or above in the most recent exams, according to its Ofsted report published today (February 5).
The results are "significantly higher than similar providers" and "outstanding", the report found.
"Around half of learners achieve grade C or above in their GCSE mathematics, which is better than for similar colleges," it added.
"Since the last inspection, the proportion of learners achieving their qualification has significantly increased, and is now high," the report continued.
"The success rates have rapidly improved, to such an extent over the last year that they are now above the national rate for sixth form colleges."
The sixth form college, which has 928 learners, had been slammed by Ofsted at its previous inspection in November 2014, when it was hit with an 'inadequate' overall rating.
Alex Fau-Goodwin, Hartlepool Sixth Form College principal, said he was "very pleased" with the inspection result.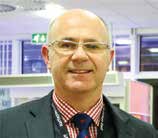 "There has been a significant focus on teaching and learning which has had a huge impact upon student success. All of our staff development has been focused upon teaching, learning and assessment, this has changed everything," he said.
"The response for teachers has been incredible. The same teachers judged to be inadequate, 15 months later, have now been judged to be good with outstanding. It's absolutely fantastic."
Changes to student tracking and monitoring arrangements has allowed the college to view live data on students' performance, Mr Fau Goodwin said.
"The availability of live accurate data allowed teachers to ensure interventions are timely, whereas in the past we have not been able to respond as effectively" he said.
According to today's Ofsted report, the college's leadership had "responded exceptionally well" to the previous inspection.
"They have restructured the senior leadership and middle management teams and put improved teaching, learning and assessment at the heart of college improvement," it said.
Teachers were praised for being "enthusiastic and passionate about learning".
"They are innovative in the classroom, making good use of a broad range of teaching techniques that stimulate learners and develop their knowledge," the report said.
Safeguarding at the college was found to be effective, the report said.
"The 'Prevent' duty has been very effectively delivered across the whole college through a dedicated morning of activities in which teachers and learners participated enthusiastically and consequently raised their awareness of these important issues," it said.
The chair of governors, Jonathan Brash, said: "This is a great result  and is as a result of the extraordinary hard work of the dedicated staff we have at the college.
"Over the last 18 months we have seen an unprecedented transformation in the quality of what we provide, making us truly the gold standard for a-level provision in the town. Most importantly the students in our care reach their potential."