The principal of South Birmingham College is helping a local blind man ride a tandem bicycle the length of the UK for the charity Macmillan Cancer Support.
The Top2Toe event will challenge local blind man Dave Heeley to run a 26.2 mile marathon and cycle 100 miles over 10 consecutive days.
Mike Hopkins, Prinicpal of South Birmingham College will be the front-rider of the tandem bicycle and guide 'Blind Dave' from John O'Groats to Land's End.
Dave Heeley said: "To have the support of a principal of a college really does add fantastic profile for Top2Toe. It also encourages many young people to follow what we are doing to help make a difference to the lives of people living with cancer – thank you so much."
Mike Hopkins will be riding alongside Dave as he completes his daily marathon run, completing around 1,000 miles in total.
Mike Hopkins told FE Week: "I'm a keen racing cyclist and compete in road races, time trials and cyclocross, and the college and I have supported Macmillan Cancer for many years, so this was the perfect challenge for me to take part in."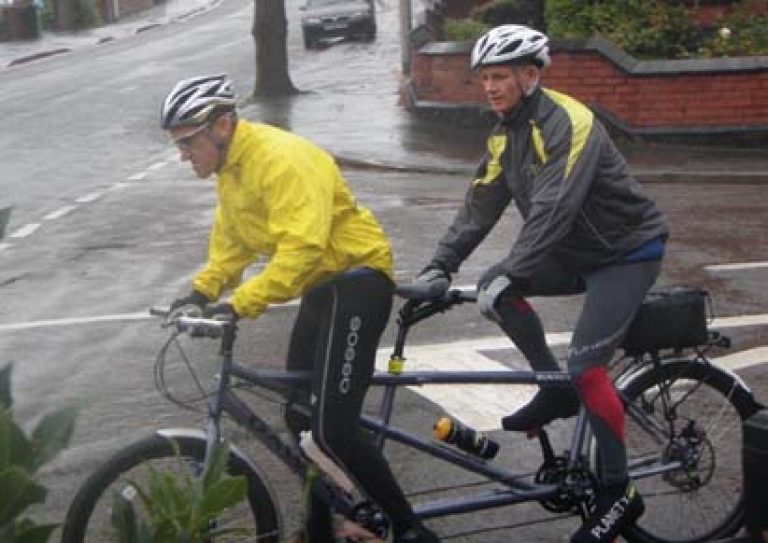 Six members of the college staff will be running the Birmingham marathon-leg and have been individually raising money to help Dave reach his goal of raising £100,000 for Macmillan.
Media students from South Birmingham College are also planning to film the pair's journey for a special video.
They will update their daily progress through the Prinicpal's blog and use a Top2Toe app to show the location of Dave and his team.
The college's staff and pupils have raised over £1,300 so far through sponsored walks and raffles.
Mike added: "I'm very pleased that the college is able to provide help and support to Dave on this challenge. Our media students will be able to put into practice what they have learnt in their classes and I know the staff running the Birmingham marathon leg have been training hard over the summer and fundraising as much as they can."
The Challenge will take place between 10-19 August and coincides with the birthday
of the Charity's founder, Douglas Macmillan.
Follow Mike and Dave's progress via these links:
www.blinddaveheeley.co.uk/top2toe
http://www.principalmiketop2toe.blogspot.com/
www.flickr.com/photos/blind_dave_100
www.youtube.com/user/blinddave100
Make a donation here: http://www.justgiving.com/blinddavestop2toe