Ofsted boss Sir Michael Wilshaw has told how he has "seen the pace of improvement slow" in FE and skills — picking out general FE colleges in particular as where "performance has declined".
English and maths commitments, finances and falling standards in leadership were among the issues for colleges identified by the education watchdog's chief inspector as he launched his 2014/15 annual report this morning.
Sir Michael'S report described how Ofsted had hailed sector improvements over the last two years — but they had had now "slowed down," he warned.
"In the case of general FE colleges, there has been an overall decline in standards," he wrote.
"With the financial pressures on the sector and the structural uncertainty brought about by the area-based reviews, it is imperative that the underlying weaknesses are tackled to prevent further falls in quality."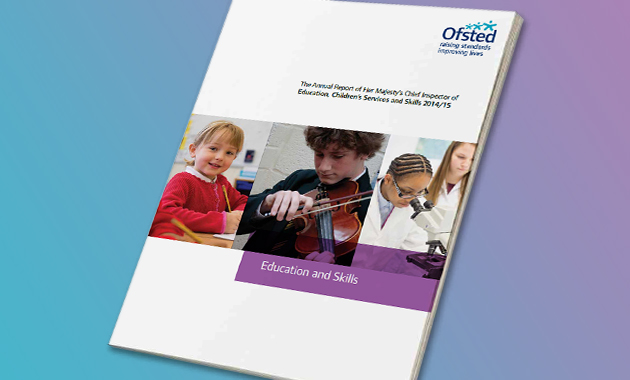 He added: "Ofsted found just 44 per cent of the leadership in general FE colleges to be good or outstanding, 19 percentage points lower than last year.
"Her Majesty's Inspectors (HMI) have reported concerns about the performance of leaders in the sector across most regions of the country, with London performing slightly worse than other areas.
"In the good and outstanding colleges seen by inspectors, leaders focused on ensuring consistently high‑quality teaching. They worked well with local employers when developing their curriculum offer and tackled long-standing weaknesses.
"As in schools, the challenge is to share this good leadership practice more widely, something that is not always done well or willingly in this highly competitive sector."
His conclusions were drawn from the inspection results of 51 GFE colleges, 127 independent learning providers and 15 sixth form colleges.
"Across England, 77 per cent of all general FE colleges are good or outstanding compared with 79 per cent last year [2013/14]," wrote Sir Michael.
"This decline is because one-in-three of the GFE colleges inspected this year dropped at least one grade and a further 16 failed to improve from their previous grade of requires improvement or inadequate.
"Worryingly, just 34 per cent of 16 to 19 study programmes were found to be good or outstanding."
He added: "The majority of general FE colleges inspected this year were judged less than good. With only 35 per cent judged good or outstanding, this reflects the fact that general FE colleges are struggling on a number of fronts.
"This year, the number of learners who had to study English and mathematics in order to have their study funded rose dramatically, and because many colleges did not have an adequate strategy to respond, the quality of teaching declined.
"At the same time, almost half of these colleges were operating a deficit budget, in part because the sector lost almost 267,000 learners in a single year."
He revealed that a "thematic survey" of study programmes would be carried out to look into what the issues were.
And Sir Michael also revisited the criticism of apprenticeships that emerged from an Ofsted report on the programme in October.
"The quality of apprenticeships remains a particular concern, notwithstanding the fact that there continues to be some excellent practice in this country, notably in the construction and engineering sectors," he wrote.
"The figures from our routine inspections this year are shocking, with almost half the provision judged to be less than good.
"Of the 190 apprenticeship programmes inspected this year, 72 were judged to require improvement and 21 were inadequate, affecting around 73,000 apprentices.
"This year we found that many of the programmes on offer were failing to give apprentices the skills and knowledge employers want.
"Too many low-skilled roles were being classed as apprenticeships and used to accredit the established skills of employees who had been in a job for some time.
"In some cases, apprentices were not even aware that the course they were on was an apprenticeship.
"Despite all the investment, the number of 16- to 18-year-olds being taken on as apprentices is almost as low today as it was a decade ago. In 2014/15, 43 per cent of places went to apprentices over the age of 25.
"I can only repeat here what I said when I launched the survey report in October. The fact that only 5 per cent of our youngsters go into an apprenticeship at 16 is little short of a disaster.
"The government has recognised these issues, and its recent reforms to apprenticeships are welcome. We now need to see the quality of apprenticeships improve and employers taking responsibility for ensuring expectations are kept high."
But Sir Michael also acknowledged the sector's financial pressures.
"The National Audit Office this year published a report that demonstrated the rapid decline in the financial health of the sector," he said.
"The figures were alarming, with just under half of the 244 colleges operating in deficit. It is understandable then that the government has begun a process of area-wide reviews to ensure that FE providers have sufficient capacity to meet the needs of learners and employers, are financially stable and deliver high-quality provision going forward."
Click here for breaking reactions to Sir Michael's report.