A college in the north-east has used public funds to pay its students cash bonuses for completing online short courses.
Middlesbrough College advertised a £50 "cash bonus" on its website for anyone who took up free distance learning courses in the health and care, business and customer service industries – in a move that's previously unheard-of in FE.
Enrolment has now closed for the courses, which initially required an upfront administration fee of £50, though the site said "this will be refunded along with a further £50 bonus if you enrol onto the course before June 1".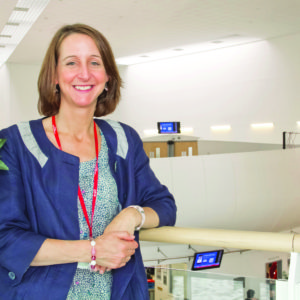 It added: "So we will actually pay you £50 for doing the course, how good is that a qualification and a cash bonus as well."
The small print said that online courses must be completed by July 31 this year, meaning that all government funding would be drawn down from the current academic year.
Zoe Lewis, the college's principal (pictured right), did not comment directly on whether the move had been designed to use up any outstanding funding from its adult education budget allocation, but said the incentive had been introduced "to expand our portfolio and to develop our own capacity and capability to serve employers and learners at more flexible times, to suit their work and home lives".
She added: "This is a small amount of development cost, given our plans for distance learning going forward and the benefits that these courses will deliver to our employers, learners and economic community."
After the college acquired the NECC Training company in 2016, it established its employer facing arm – the Northern Skills Group – which, she said, led to the decision to develop a "distance-learning capacity".
"We are looking to launch this fully in the next academic year, but wanted to test our systems, processes and procedures this year, hence our decision to launch 10 courses in May this year.
"The incentive payment was for a short period, was time limited and will amount to less than £2,000 – which was funded through our course development budget," she claimed.

"No incentive is currently in place, nor will be in the future."
The choice to hand public money out in this way could be seen as controversial, at a time when independent learning providers are unsure whether they will receive funding from the adult education budget because of delays to a new procurement process.
Mark Dawe, the chief executive of the Association of Employment and Learning providers, admitted he hadn't seen incentives like these in FE before.
"Until the full 1.5 billion adult budget is properly tendered and targeted at real need, we will continue to see these perverse workarounds in an attempt to mop up unused but valuable allocations," he said.
Bob Harrison, a former college principal and an expert in online and digital learning, told FE Week: "This is the first cash bonus scheme for free online courses I've heard of and am concerned about the use of public money in this way.

"A free course combined with a cash reward at the end looks a dubious practice at best. At worst it is simply a way to sign-up people more interested in the financial gain than a need for training or a qualification."
Shortly after our enquiries, FE Week received notification from Middlesbrough College that the reference to the £50 "cash bonus" had been removed from its free distance learning courses offer online.
---
Blue pill is tough to swallow
Editorial by Nick Linford
Since the snap election was called by the Conservatives seven weeks ago, it has been interesting to see the reaction to their handling of the media
The overriding theme has been one of avoidance: stories of the press being locked out of events, only being allowed to ask pre-vetted questions and of ministers darting in and out of back doors have been frequent.
And even when interviews have been granted, journalists have been left complaining of questions going unanswered and replaced with "strong and stable" sound bites.
Most recently, Jeremy Corbyn changed his mind and decided to participate in the TV leadership debate, but Theresa May stayed away.
This prompted a cartoon in The Times in which our prime minister hides behind the sofa.
Today's cartoon by @BrookesTimes – #WheresTheresa is found hiding behind the sofa during last night's TV debate pic.twitter.com/AZ9gLIzhI6

— The Times of London (@thetimes) June 1, 2017
We've drawn up our own version, in which she is seen completing an online course in media management from the safety of her breakfast table.
And we now know, seven weeks after we first asked an answer, that the Conservatives are determined to keep FE Week away from the apprenticeships minister Robert Halfon.
The lack of opportunity to scrutinise the manifesto commitments weakens the democratic process.
Would you choose to buy a medicine from a pharmacy that refused to even make itself available to ask about potential side effects?
I'm not going to endorse one party over another, but the best way to change the behaviour of a salesperson is to refuse to buy their product.