The cabinet office is reviewing the training providers used for civil service apprentices, to decide who will take over from a government provider with "unsafe" recruitment practices.
Last week, FE Week exclusively revealed that the Education and Skills Funding Agency had terminated the levy funding of Premier People Solutions following a shocking monitoring report from Ofsted, which warned that "leaders and managers cannot be sure that their members of staff are safe to work in the sensitive environments of the employers for whom their apprentices work".
The provider, which trades as Premier Partnership, delivered apprenticeship training to government departments including the Department for Work and Pensions, HM Revenue and Customs and the UK Visas and Immigration service. It will be removed from the register of apprenticeship training providers next month.
The cabinet office said a decision was still being made on what to do for the 686 apprentices that trained with Premier.
 A spokesperson said: "The cabinet office is currently reviewing education and training providers for civil service apprentices and will appoint a replacement in due course."
A source with knowledge of the situation said the apprentices may be transferred to Capita (see table), but neither the cabinet office nor Capita would confirm this.
Ofsted's poor verdict on Premier was made more surprising by the fact the company had successfully tendered to get on to the Crown Commercial Service call-off list from September 2017.
The CCS is an executive agency sponsored by the cabinet office, and making its list is seen as a badge of quality for any provider.
However, Premier made it on to the list of approved apprenticeship providers despite the fact it only began recruiting its first levy-funded apprentices in August 2017, and its apprenticeship provision had not been inspected by Ofsted.
According to the "find apprenticeship training" service, it had provided apprenticeships to the government for the last six months, meaning it was accepted on to the CCS list after providing apprentice training for less than a year.
Premier is not the only outlier to have reached this prestigious list of cabinet office-approved providers, although it is the only one the cabinet office has plans to replace.
Fifteen suppliers are listed under the CCS's "apprenticeship training and related services" contract page. Two of these – Encompass Consultancy and Kaplan – are currently rated as 'requires improvement' by Ofsted.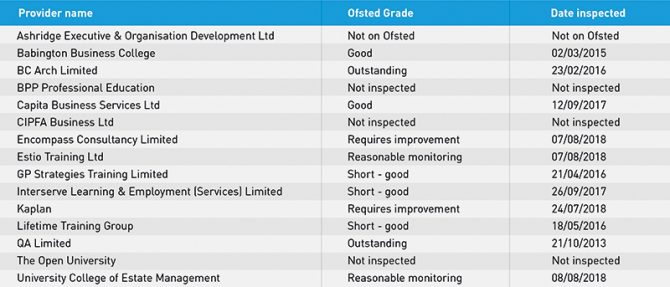 Three of the providers on the list have not yet had their apprenticeship provision graded by Ofsted: The Open University, CIPFA Business and BPP Professional Education.
BPP Professional Education is one of four BPP providers to appear on the register of apprenticeship training providers. The global education group was rocked earlier this month after an Ofsted monitoring report slammed the apprenticeship provision at sister company BPP University and warned leaders were unaware of the "slow progress" apprentices make.
The ESFA will now have to decide whether to temporarily ban BPP University from taking on new starts, but it is not clear whether the other BPP branches, including BPP Professional Education, will be allowed to take over their apprenticeship training.
Two other providers on the CCS list – University College of Estate Management and Estio Training – are still classed as "new" apprenticeship providers and have only been subjected to early-monitoring visits by Ofsted.
Of the remaining providers, five are 'good', two are 'outstanding' and one – Ashridge Executive and Organisation Development – does not appear on Ofsted at all.