The Confederation of British Industry (CBI) has criticised the body established to police the reformed apprenticeship system as having a "disappointingly narrow" set of duties and responsibilities.
Pippa Morgan (pictured), head of education and skills at the CBI, raised the concerns during a webinar for members on the apprenticeship levy on Wednesday (April 13).
She said the initial remit of the Institute for Apprenticeships (IfA), the employer-led body which will set standards and maintain high quality, was inadequate.
Ms Morgan expressed concern that this could render the body, which will be fully operational in time for the levy launch in April 2017, a mere "standards factory — rubber-stamping the [apprenticeship] standards".
Speaking during the webinar, Ms Morgan said: "In terms of the remit that the Institute has, we pushed for a very strong business voice.
"Its initial set of duties and responsibilities are disappointingly narrow in terms of being very focused on the standards and the assessment element of apprenticeships."
She added: "We have actually had some wins in terms of shaping the remit and pushing it to better reflect the needs of businesses and the needs of the apprenticeship system to reflect what skills needs are in the economy — rather than just operate as a standards factory — rubber-stamping the standards, which is currently being done."
She added the CBI would continue to lobby and challenge the Institute as its fulltime team continues to be assembled over the coming year.
To date, the only public appointment to the IfA has been Rachel Sandby-Thomas to 'shadow chief executive', as reported in FE Week in March. An Enterprise Bill factsheet, published on February 26, said the powers of the IfA would cover "quality and approval functions in relation to apprenticeship standards and assessment plans".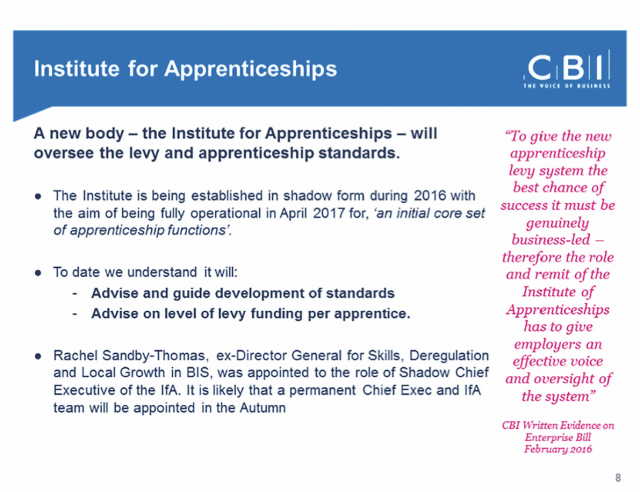 It added the body would have "wider quality assurance functions, including making arrangements for assessing the quality of the end point assessment for each apprenticeship"; and "responsibility to advise government of funding allocations per each apprenticeship standard".
Neil Carberry, director of employment and skills at the CBI, who also participated in the CBI webinar, raised the suggestion that the levy could end up being a disincentive for employers to take on more apprentices.
He said that "the cost is very significant and the ability to recover that is questionable for most businesses", adding it was "gallows humour" among his team that "every sector thinks it is subsidising every other sector".
"The challenge there is that the levy as currently designed is actually an incentive to do fewer apprenticeships not more apprenticeships, because it increases the cost per apprentice," he added.
Mr Carberry added there was "lots of support" among employers for more flexibility around how the levy money could be spent.
Responding to the issues raised in the webinar, a spokesperson for BIS said: "At the heart of our apprenticeship reforms, lies the principle that employers must be in the driving seat.
"They are best placed to ensure our young people get the right skills and experience. That's why we are creating the independent Institute for Apprenticeships that will be led by employers."