The Confederation of British Industry (CBI) wants the rate for the government's planned apprenticeship levy to be controlled by a new independent board with the Low Pay Commission (LPC) as the "blueprint," FE Week can reveal.
It made the proposal as part of its submission to the government consultation on the levy plans, which closed on Friday, October 2.
A CBI spokesperson said its consultation response called for "the rate to be set by a new levy board, independent of government and providers".
"It must be set based on sound evidence with the potential for the introduction of a cap on the total levy paid by any one business," he added.
The CBI also called for the LPC, an independent body that advises the government about national minimum wage rises, to be treated as a "blueprint" for the new levy board.
The spokesperson said that its consultation response also stated that the levy "must give employers real control — signing off new standards, setting time rules on spending to the [levy] board".
The consultation document was criticised after its publication on August 21 by Neil Carberry (pictured above), as reported in FE Week, CBI director for employment and skills, for failing to explore the cost involved or the minimum size of "larger employers" that the levy is set to apply to.
The Association of Colleges' consultation response said the levy "should be set at 0.5 per cent of payroll, paid by all public and private organisations with more than 250 employees, and used to support high quality training".
It added that the government "must not be seen to be using the levy as a reason to reduce its own £1.5bn annual spending on apprenticeships, because this will leave average funding at just £2,000 per apprentice and stall the necessary progress towards a high quality programme".
The University and College Union response said that the lack of detail in the consultation document on "the size of employers in scope of the scheme, the levy rate and sectoral considerations" were "glaring omissions".
"As this is a scheme for large employers only, we do not believe that smaller companies should be eligible for support by it — these firms should continue to receive SFA funding," it added.
In its consultation submission, the National Institute of Adult Continuing Education said: "We believe any underspend within the apprentice levy budget should be made available to fund digital vouchers for apprenticeships in smaller businesses who have not paid the levy.
"To deliver 3m apprenticeships by 2020, the government needs to continue to support the expansion of apprentice places within small and medium sized businesses."
The National Union of Students said in its response that "it is absolutely vital apprenticeship funding from the levy is used to support training by smaller companies".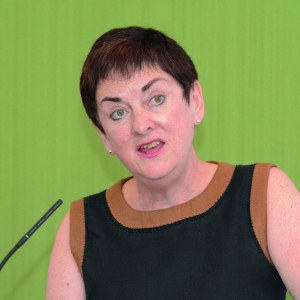 "Restricting funding to large companies who have paid the levy will only limit scope and access to apprenticeships," it added.
Dr Mary Bousted (pictured right), general secretary of the Association of Teachers and Lecturers said: "We are making it clear in our consultation response that the protection of government funding for 16 to 18-year-old apprenticeship programmes is imperative."
A spokesperson for the Department for Business, innovation and Skills said: "We will provide our response to the consultation submissions in due course."
The Association of Employment and Learning Providers and Federation of Small Businesses were unable to provide their submissions at the time of going to press.
Levy 'double whammy' not issue for 2/3
Almost two thirds of large construction employers would support paying a "double whammy" of charges after the government's apprenticeship levy is launched, a new survey has indicated.
Building trade bosses already pay a levy that allows the Construction Industry Training Board (CITB) to develop qualifications and standards and give out £150m a-year in grants to employers to fund training.
But the CBI told FE Week on September 21 that employers should not have to pay a "doublewhammy" of CITB and apprenticeship levies.
The issue was addressed by a CITB survey that asked 100 large construction employers if its levy should continue alongside the apprenticeship charge.
Steve Radley, CITB director of policy and strategic planning, said that the survey option "favoured by nearly six out of ten (59 per cent)" respondents would involve paying "the new levy plus CITB's at a reduced rate, with a modified level of CITB services".
Only 24 per cent of employers questioned backed paying the full CITB charge and apprenticeship levy, while 17 per cent opted for only paying the proposed apprenticeships levy.
Click here for an expert piece on the survey findings by Stephen Radley.