A college's own accounts have questioned its "ability to continue as a going concern" after it was set to receive more than £11m in exceptional financial support (EFS) from the Skills Funding Agency (SFA).
Audited 2014/15 accounts for City of Bristol College (CBC) showed that it had received a total of £6,449,000 in EFS up to the end of July 2015, and had arranged a further £5m in EFS for 2015/16.
The document, published on March 4, also showed that the college, which has an SFA allocation of £15.2m and an Education Funding Agency allocation of £18.7m for 2015/16, had an operating deficit, of over £9m, and was set to sell-off some its property in order to pay off its debts.
"The facts above indicate there is a material uncertainty that may cast significant doubt on the group's and college's ability to continue as a going concern," a note on the accounts said.
The revelations came just days after the government made it clear that colleges will no longer have access to EFS following the area reviews, and would in future be allowed to go bust.
A spokesperson for CBC said: "The college has in place a robust financial recovery plan which is being monitored by both the SFA and the FE Commissioner's office.
"This plan includes a number of asset disposals which will provide the required funds to pay back the exceptional funding support from the SFA.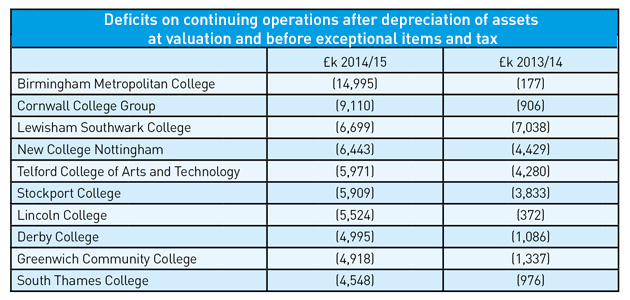 "We have undergone major changes in the last year, putting in place an experienced and skilled leadership team in which we are confident will deliver a financial and quality turnaround."
A spokesperson for the SFA said that CBC was making progress on its recovery plan, but "it is unlikely that a college which requires funding by way of exceptional grant will be suitable for funding by the SFA in the long term without significant change being delivered as part of an area review".
News of CBC's financial situation came as the SFA published the 2014/15 college accounts, which showed that seven colleges reported deficits, on continuing operations after depreciation of assets at valuation and before exceptional items and tax, of more than £5m.
These included Birmingham Metropolitan College (BMet), which topped the list with a massive £15m deficit.
Cornwall College Group (CCG) was second, with a £9.1m deficit, followed by Lewisham Southwark College (LSC) and New College Nottingham (NCN), with deficits of £6.7m and £6.5m respectively.
BMet's deficit, made up of an operating loss of £7.7m and restructuring costs of £8.5m, was due to a combination of reduced funding and historical financial underperformance, according to principal Andrew Cleaves.
CCG said that its deficit was due to a number of factors, including costs associated with its merger with Bicton College, which the college had planned for.
LSC principal Carole Kitching said that her college's deficit was part of an ongoing decline in quality and finances at the college, which she and her team were working to break.
NCN said that its deficit related to the demolition of one of its campuses, and did not impact on NCN's financial health.
Neither CBC nor the Warwickshire College Group, which had one of the highest deficits in 2013/14, at £5m, were included in the list of college accounts published by the SFA.
The SFA said that this list was the first draft, and that data from colleges not included in this list would be published soon.
Warwickshire College Group said the group's 2014/15 accounts had not yet been finalised.
Here are the full responses from the colleges:
Birmingham Metropolitan College:
Andrew Cleaves, CEO and principal of Birmingham Metropolitan College (BMet), said: "The FE sector has been through challenging times of late. Like many colleges, BMet has experienced reductions to funding which, alongside historic financial underperformance, contributed to an operating loss of £7.7m in 2014/15, with restructuring costs of £8.5m.
"In 2015, the new college management team took the necessary actions to improve performance and efficiency, reduce unnecessary costs and generate additional funding and cash to aid recovery. This has included selling off unused sites and buildings. BMet is now well set for the future, more resilient and in a much stronger financial position. We have the full support of our funders, the SFA and the FE Commissioner for our plans which are well underway.
"With that confidence, our focus now is on building a better future for BMet. Our students are at the heart of this and we remain focused on improving their educational experience and giving them the opportunities and support that they need to succeed.
"We are committed to helping more young people and adults get the technical and professional skills they need. We work closely with hundreds of employers across Birmingham and the Black Country, helping them to train and develop the workforce they need now and in the future.
"We are proud of our hard-working students and the expert staff that support them and we are looking to the future with confidence, clear in our role to develop the skills that bring social and economic success."
Cornwall College Group:
A spokesperson said: "Like the whole FE sector, the Cornwall College Group is dealing with the dual challenge of providing high quality skills education and training within shrinking budgets.
"We were pleased with our recent Ofsted inspection, which graded us as 'good' in all categories and provided an external endorsement of our role as 'a catalyst for raising the skills of the local workforce'.
"We will continue to place offering high quality provision above building high reserves; we are here to help people in our local communities achieve the best they can to support their development and economic growth for the region.
"Four elements have contributed to our current financial position: 'one-off' financial treatments and costs associated with merger with Bicton College, increased pensions and restructuring costs, reductions in recruitment and government funding.
"We have always been aware of most of these challenges and the impact on our financial position and have planned accordingly for the next three years. Our financial forecast will move us into surplus for 2016/17 and then over the next three years will re-build levels of reserves without compromising the quality of delivery for our students and employers."
Lewisham Southwark College:
Carole Kitching, principal of Lewisham Southwark College, said: "As you identify from the published college accounts, Lewisham Southwark College reported an operating deficit of £6.7 million at the end of 2014/15.
"This figure has long been in the 'public domain' as it was the key driver in the widely reported Organisational Review at the time. Whilst this review succeeded in reducing pay costs by a similar amount in the short term, recruitment shortfalls at the start of 2015-16 further reduced income and again started to drive up the pay to income ratio to above sector norms.
"The college has continued to make interventions in year to reduce cost again whilst at the same time taking forward plans to grow income, the only really sustainable way to break this cycle.
"What follows are some personal reflections on this journey.
"The college has faced significant challenges over the past three or four years and there are great ongoing challenges in reversing the downward spiral the college has found itself in. As is almost always the case, declining quality and declining finances combined to create a "perfect storm".
"My role, alongside the new permanent team is to reverse that decline. At the centre of the strategy is restoring the college to the heart of its communities in Lewisham and in Southwark – rebuilding confidence with improvements in teaching and learning and relevance of curriculum and re-engaging with our students, employers, parents, community groups and, of course, our Boroughs. Two Ofsted monitoring visit reports in the past seven months have provided some external validation that we are making progress.
"This is not an easy task but a very rewarding one. By earning the right to our improving reputation we are building up student recruitment again, the lynchpin of any successful turnaround. Pride, the pride of staff in doing a great job and the pride of students in their achievements and in their college are key ingredients. The college recently won Training Provider of the Year 2016 and one of our apprentices Apprentice of the Year in the Creative and Cultural Skills Annual Awards and the boost to morale was humbling to witness.
"Reversing the fortunes of a college such as Lewisham Southwark is not for the faint-hearted.
"The current climate is not supportive of even the most outstanding and financially robust colleges. Whilst it is absolutely right that there should be scrutiny and accountability of how public money is spent the layers of intervention for colleges in difficulties are an industry in themselves and it is a fine balance to take the right actions, make the right interventions, keep accelerating the pace of change and be able to report on this in detail and at length to different agencies.
"There are no secrets about what makes for a successful and sustainable college, no holy grail to distract us. A strong governing board, great teaching and training, a relevant curriculum that engages employers and HEIs, strong recruitment resulting in good class sizes, efficient and effective deployment of staff, decision making that is centred on student need and an organisation that works holistically, not in silos. Colleges have always coped with moving goalposts but there are times when it feels as though the goalposts have been removed altogether and perhaps even that scoring goals is no longer the sure-fire way to win the game.
"Arguably the long-standing sector pride in its agility and its underlying compliance in implementing just about any government change thrown at us has not stood us in good stead. Our university colleagues have not put up with this and are probably stronger for it.
"Local area reviews are a chance to fix things and redefine the sector as something the government actually wants and needs, or our last chance saloon, depending on your viewpoint.
"Radical change often requires radical solutions, challenging the orthodoxy of political intervention in order to secure the opportunity to transform the life chances of our students and communities. If you are not prepared to stand up and speak out for the rights of your students you do not deserve the privilege of leading a college."
Telford College of Arts and Technology:
Jo Lomax, interim principal at Telford College of Arts and Technology, said: "These are challenging times in the FE sector, particularly for colleges with a large adult education provision, where funding has fallen significantly.
"Here at TCAT, we have one of the largest adult education provisions in the Midlands, so there is no doubt that we have been disproportionately affected by the succession of cuts, and changes to Government funding priorities.
"We are currently working closely with the FE Commissioner to help us overcome difficulties that we are facing, and are in the process of reducing staff numbers for the third occasion over the past two years."
Stockport College:
Simon Andrews, Principal and Chief Executive, stated: "The college has had financial difficulties since the collapse of the then LSCs Capital Build programme, continued funding cuts, and the impact of a failed inspection in 2013.
"The deficit in 2014-15 was due in large part to a number of one offs as the college implemented its recovery plan.
"The underline deficit was in fact an improvement on the previous year. The college is now well on the road to recovery. We are in the middle of an ambitious scheme with partners to sell the college campus and to rebuild a new efficient building in the town centre.
"Added to that we are working through proposals with the area-based review team and the combined authority to form a new bigger college which will be financially resilient and will provide high quality education and training for the local community and beyond'.
Lincoln College:
A Lincoln College spokesperson said: "The accounts published by the SFA reflect our consolidated group accounts and include the first 18-months of Lincoln College International's operations in The Kingdom of Saudi Arabia (KSA).
"The mobilisation of our KSA colleges included exceptional costs that are currently the subject of negotiations with Colleges of Excellence in KSA.
"As we have stated previously, both Lincoln College and Lincoln College International are forecasting surplus end-of-year positions.
"International development remains an important strand of Lincoln College Group's financial strategy to reduce our reliance on central government funding. The investment in our academic activities in China and KSA are strategic long-term activities, not financial quick fixes."
Derby College:
A spokesperson for Derby College said: "The deficit is after a significant number of one-off items which do not reflect on the underlying performance of the college.
"These costs include the costs of restructuring and redundancy (£1,083,000). In addition, due to the significant profit of disposal that we achieved in the year we were able to look at the carrying value of assets that are being held for resale and write them down to a more realistic disposal figure and make appropriate provision for any dilapidation costs associated with subsequent disposal.
"Both of these adjustments did not impact on the cashflow of the college, but were prudent accounting adjustments agreed as part of the year-end audit process.
"Overall the college made a bottom line surplus of £2,556,000 in 2014/15 after the final tranche of disposal of property that was no longer part of our core educational offer. We also improved our cash inflow in the year by £535,000.
"Our underlying operating position was in surplus again. All our financial objectives were achieved to secure sound financial health, including receiving confirmation from the SFA of an overall satisfactory rating, and an outstanding grading for our gearing ratio.
"Today's position of improved financial health for Derby College can be credited to Mandie Stravino, the chief executive appointed in October 2012 and tasked with, amongst other things, turning finances around. In 2011-12, the college had a £2,200,000 underlying operating deficit and since then we have seen an improving financial position with the last two years achieving positive underlying operating surpluses in excess of budgets."
Greenwich Community College:
Sam Parrett, principal and chief executive of Bromley College and Greenwich Community College said: "Greenwich Community College has been in a difficult financial position for some years and as a result, was placed in administered status by the FE Commissioner in January 2015. The reasons for this have been well-documented and are a matter of public record.
"Following this, and to avoid closure of the college, the decision to create a federation between Bromley College and GCC was agreed by both Boards of Governors from January 2016.
"With this partnership now in place, Bromley College is working with GCC to address the financial deficit and to secure its future going forward as part of a larger and more financially resilient organisation in line with the recommendations from the FE Commissioner and the Minister.
New College Nottingham:
New College Nottingham is due to respond on Tuesday (March 22).
South Thames College:
South Thames College did not respond to FE Week's request for a response.