Skills Minister Nick Boles ducked a question about delays to the first skills white paper in more than 10 years — after Labour's Gordon Marsden raised the issue in parliament.
The exchange, during House of Commons business, innovation and skills questions, came after FE Week exclusively revealed last week that the first skills white paper in more than 10 years has been delayed.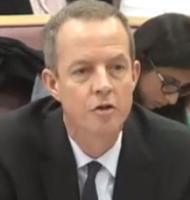 After quizzing Mr Boles (pictured right) yesterday about cuts to the adult skills budget, Shadow Skills Minister Mr Marsden (pictured above) asked: "Why is the government's key white paper to address technical skills shortages being delayed?"
But Mr Boles' response focused on government funding for FE and did not answer the question about the white paper directly.
He said: "We are increasing total funding available for further education by 40 per cent in cash terms during this parliament.
"He talks about last year because he doesn't like this year, because this year tells a story of a government investing in skills for the future," Mr Boles added.
This prompted Mr Marsden to table a parliamentary question about government plans for the skills white paper.
He asked the Secretary of State for Business, Innovation and Skills "when his Department plans to publish its skills white paper".
The question, tabled on May 3, has yet to be answered.
As reported by FE Week, the Skills Funding Agency released a document in February called 'The Legal Entitlements for 2016 to 2017' which referenced an upcoming skills white paper that it said would be published in the spring.
But this reference to when it would be unveiled had been removed in version two of the document, updated in March.
The delay to the white paper may be because the independent panel on reforms to technical and professional education (TPE), set up by the government and led by Lord Sainsbury, has not yet reported its findings.
The panel, which was set up to help the government create "up to 20 specific new professional and technical routes, leading up to employment or degree-level", was due to have completed by March.
But FE Week understands the panel will now not be reporting its findings until mid-to-late May.
A spokesperson for DfE said the report from the Lord Sainsbury review would be published in due course, but declined to comment on the planned briefing for awarding organisations.