Applications for at least six new "elite" sixth forms have been lodged in the latest wave of free school bids – in areas where ministers want to boost standards.
More details have also emerged of two bids for new university technical colleges in England. A third UTC is also in the pipeline.
The Department for Education published a list of more than 60 applications shortly before Christmas for wave 15 of the free school programme. Just 15 of these are expected to be approved.
Among the bids for new elite sixth forms are three "unashamedly academic" Eton and Star Academies colleges proposed in Dudley, Oldham and Teesside.
The government has committed to opening "a number" of "high-quality, academic focused" 16 to 19 free schools in education investment areas. EIAs are regions with the lowest student outcomes that have been promised extra support.
The move has proven controversial with fears it will lead to "selection for a lucky few". A study last year found elite sixth forms taught few poorer pupils and recruited heavily from neighbouring areas.
But Eton (main image) and Star have pledged to focus on young people from the most deprived communities. The organisations told FE Week that each college's curriculum could "evolve to meet contemporary demands of business in the local areas".
For instance, pathways to degree-level programmes in biomedical science and STEM (science, technology, engineering and maths) subjects in Teesside could be introduced to support the chemical engineering industry there. The sixth forms will have capacity for 480 students.
There are also plans for an all-girls elite sixth form in Bradford specialising in STEM subjects, to be known as iExcel Elite STEM 6th Form College and sponsored by the Feversham Education Trust.
Cornwall School of Mathematics and Science (CSMS) has lodged a bid for an elite academic sixth form, while The Mercian Trust has applied for one to serve Sandwell and Walsall, to be known as Mercian Sixth – The Queen Mary's Partnership.
CSMS principal Emma Haase said the 450-capacity Cornwall Academy of Excellence would offer a "full suite of A-level qualifications" and aims to help Cornish teenagers into university.
The Mercian Trust hopes its sixth form will be open for up to 600 students by September 2025.
The trust said it would offer a mix of A-levels and T Levels and include a focus on STEM subjects, hoping to progress students onto university and apprenticeship places in the technology, engineering and digital sectors.
Elsewhere, a BRIT School for 14 to 19-year olds is planned in Bradford as an expansion of the Croydon school which boasts Adele, Amy Winehouse and Rizzle Kicks among its alumni.
A spokesperson from the British Phonographic Industry, which funds the BRIT School, said its school in the north would make the industry "more inclusive and accessible for all, regardless of background".
Bids for new UTCs confirmed
Two university technical college (UTCs) bids have been submitted alongside those for schools and sixth forms.
UTC Portsmouth is behind plans for a UTC in Southampton for young people aged 14 to 19. It said its Portsmouth offering has been "heavily oversubscribed for a number of years".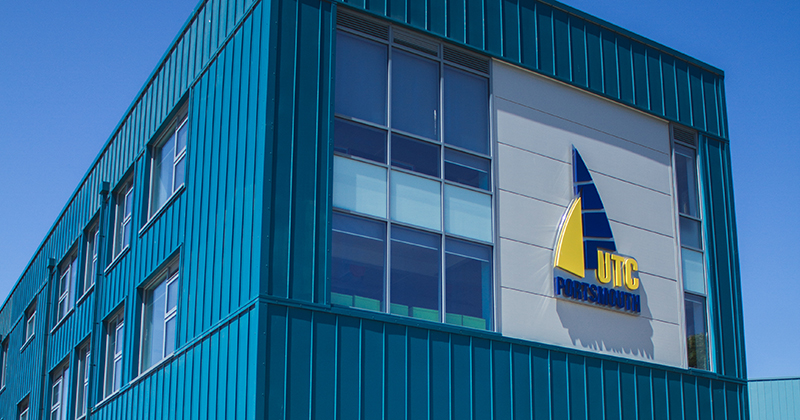 James Doherty, UTC Portsmouth principal, said "many students currently make the journey from Southampton to UTC Portsmouth".
He added: "In response to requests from new and existing industry partners, and from prospective students for more of what we do, we felt it would be an excellent opportunity for the young people of Southampton to found a second institution here."
Doncaster UTC has also lodged plans for a health sciences and green technologies school, The college did not respond to requests for comment at the time of publication, but its application has confirmed it would serve those aged 11 to 19.
The Baker Dearing Trust said in November that it hoped to submit bids for three UTCs, but work on the third bid in Suffolk is understood to be ongoing and likely to be submitted in a subsequent round.
Simon Connell, chief executive of the Baker Dearing Trust, said: "Both these bids are based on a need and demand for technical education and skilled workers in their areas.
"Doncaster UTC and UTC Portsmouth are oversubscribed and employers in their areas are crying out for high-quality, widespread technical education provision."