Government officials forced a major bank to halve a £40 million unsecured loan after threatening to put a college into insolvency.
In a highly unusual move, Lloyds Banking Group agreed to slash Bradford College's debt to £20 million in return for halving the write-off costs with the Department for Education.
The details of the last-minute deal, struck at the end of March just before the DfE's "restructuring facility" closed, are secretive and complex but the college has said it is "grateful" to both the department and bank for being kept afloat as it tries to find a further £3.5 million in savings.
Any future negotiations will take place under the shadow of the administration process
Latest accounts for Bradford College, where more than 130 jobs are currently at risk, shows it had a total of £40 million debt, all of which was due to be repaid within one year after it breached one of its banking covenants.
Knowing this repayment deadline could not be met, negotiations began and FE Week understands the ESFA argued that the unsecured loan had been irresponsible lending on the part of Lloyds and used the threat of insolvency to strike a deal.
Rather than potentially losing the entire £40 million if the college went bust, which is allowed to happen following the launch of the FE insolvency regime in April, Lloyds agreed a financial arrangement with the ESFA's transaction unit.
This meant the college was given £12.8 million by the ESFA to pass on to the bank and the bank gifted an equal amount of £12.8 million to the college, in what they called "debt forgiveness".
These payments resulted in the loan halving to £20 million, repayable over 15 years, and also covered the £5.6 million loan break costs.
In addition, the ESFA also wrote off its own £9 million loan with the college and provided £5 million for infrastructure improvements, making a total payment to the college of £26.8 million, excluding the £12.8 million passed on to the bank.
A financial advisor to the college sector told FE Week they understand the gift by the bank to be the first such significant debt write-off for a college.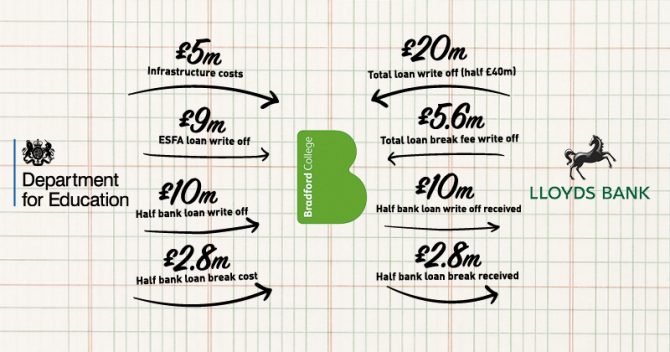 When covenants have been broken in the past, banks would typically renegotiate quickly and change the loan to very high interest rates – knowing the DfE would have to bail the college out if it ran into further trouble.
A spokesperson for Lloyds said a financial arrangement was offered to put the Bradford College on a "stronger financial footing".
"In conjunction with the EFSA, we agreed a refinancing to all parties' satisfaction and which allows the college to move forward with a more confident future," he added.
"This was a standalone transaction and reflected a very specific set of circumstances for Bradford College."
The college's bank loans had been taken out to fund a number of capital projects.
Julian Gravatt, the deputy chief executive of the Association of Colleges, explained that Bradford "missed out on capital funding when that budget was cut in 2009, so they used their own funds and a bank loan to redevelop their campus to meet student needs".
Asked if he thought the insolvency regime might give more colleges a stronger hand when renegotiating loans in the future, Gravatt added: "Any future negotiations between a college and its bank will take place under the shadow of the statutory education administration process. We're finding out right now how this works.
"There is a bigger point that government has assumed colleges will borrow when allocating capital but has failed to provide adequate revenue funds. Funding colleges properly would avoid the time, effort and money lost in individual financial interventions."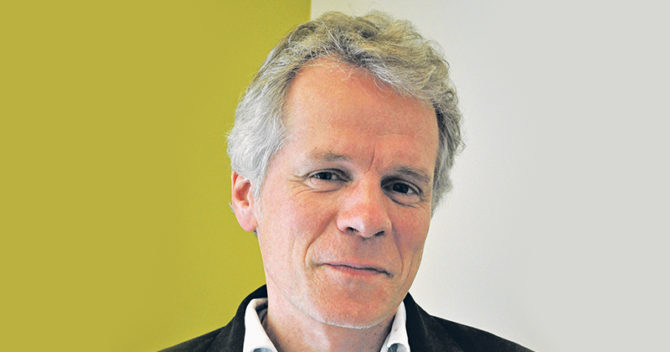 Minutes from a January board meeting stated that current staff costs at Bradford College have increased compared to previous years and now sit at £33.5 million, which "is not sustainable". It is now consulting on cutting 132 jobs.
The college's income for 2019-20 is predicted to fall by £3.5 million for three reasons: its 16-to-18 budget has dropped by £2.5 million, it has lost £800,000 via adult education budget funding in Manchester due to devolution, and has suffered a £200,000 decline in higher education provision.
The job losses will lead to "significant financial savings and ensure the future sustainability of the college", the Bradford College spokesperson said.
Bradford College went for more than a year without a permanent boss until March 2019, when former Ofsted grade one Barnsley College principal Chris Webb became its chief executive.
The college's last permanent boss, Andy Welsh, resigned at the end of the 2017-18 academic year after the college received both a financial notice to improve and an Ofsted grade three in quick succession.
An FE commissioner report, published in March 2018, revealed that the college's dire financial position had come as a surprise to the governors.