Lord Baker has won a major concession in the House of Lords which will force all schools to give FE providers access to their pupils, a move which he concedes will likely be universally hated by them.
The move to amend the government's Technical and Further Education Bill, put forward by Lord Baker and his fellow former education secretary Baroness Morris, was voted through on Wednesday night.
The peer, who served under Margaret Thatcher and was a key architect of the ailing University Technical Colleges programme, accused schools of "resisting" those who tried to promote more vocational courses to their pupils.
He insisted that "every word" of his proposed clause was needed because it would be "met with great hostility in every school in the country".
It means schools will now have to ensure that a "range of education and training providers" can access pupils aged between 13 and 18, to promote technical education qualifications or apprenticeships.
The decision by the parliamentary undersecretary of state for the school system, Lord Nash, not to challenge the amendment, has been met with surprise as it is considered unusual for the government to accept an amendment in this manner.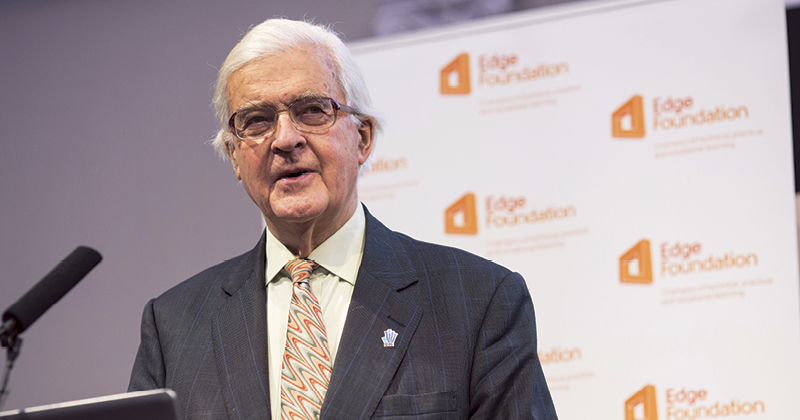 In fact, he spoke glowingly about the positive impact it would have.
"The amendment would require schools to give education and training providers the opportunity to talk directly to pupils about the approved technical education qualifications and apprenticeships that they offer," he said.
"I agree that it would strengthen the bill by promoting technical education and apprenticeship opportunities more effectively, so that young people can make more informed and confident choices at important transition points."
The move was welcomed by the FE sector, which has been highly critical of the slow progress over schools' careers advice on skills training.
Mark Dawe, the boss of AELP, told FE Week: "Training providers have the links with all of the local apprenticeship employers and their current apprentices, so why wouldn't you want to use them to turn the apprenticeship reforms into a game-changer for young people?
"This is why the Baker clause, as it will hopefully become known, is so important."
He added that the implementation of the new requirement needs to be "properly managed" so that head teachers don't get bombarded with approaches.
He confirmed that his organisation is "keen to work with" the Skills Funding Agency, the Careers and Enterprise Company and the local enterprise partnerships "to make this work".
David Hughes, chief executive of the AoC, said the amendment would be "significant for colleges".
"Careers advice and guidance has been failing young people for too long, with many being encouraged to stay in the school sixth form without realising that there are other options available with colleges and other training providers," he said.
"It is vital that all young people are aware of the exciting range of options that are available to them at the age of 16, whether academic, vocational or technical."
The 13-to-18 age range included in the new amendment means that UTCs – which have faced huge problems with recruitment at 14 – will also benefit, according to Lord Baker, who admitted that a transition at 14 "presents marketing difficulties".
Baroness Morris, an education secretary under Tony Blair, who supported the amendment alongside Labour's Lord Adonis and the Lib Dem education spokesperson Lord Storey, said the problems with schools were caused by "incentives the government have put into the system".
She said UTCs were "a force for good" but their "very existence" was threatened because of the "wrong incentives".
The legislation will also apply to special schools, pupil referral units and alternative provision academies, and will require schools to prepare a policy statement setting out the circumstances in which providers of technical education will be given access.