Post-16 education area reviews "haven't been set up in order to save money," Education Secretary Nicky Morgan (pictured above) claimed in an evidence session with the House of Lords Social Mobility Committee.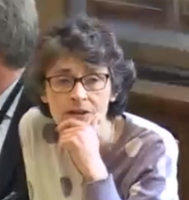 Ms Morgan was grilled about the influence of FE funding issues on the post-16 education area review process by former Labour Education Secretary Lady Estelle Morris (pictured left), in the session on Wednesday (December 9).
Thirteen area reviews across two initial waves, covering more than 130 general FE and sixth form colleges, have been launched so far by the government, which has said the "need" to move towards "fewer, often larger, more resilient and efficient providers," underlies the process.
However, when Lady Morris questioned whether the government intended to make savings through the area reviews, Ms Morgan said: "The area reviews haven't been set up in order to save money, they have been set up to ensure sustainability of institutions."
The session was covered live on Twitter by FE Week and reaction to Ms Morgan's comment was swift. Among those to respond was London Work-Based Learning Alliance governor Rob Brooks, who tweeted: "I don't believe that for a second."
And Dr Fiona Summers, technical standards manager at YMCA Awards, tweeted: "This goes against what we are hearing elsewhere re area reviews = efficiencies."
Both Ms Morgan and Skills Minister Nick Boles were questioned in what was the final evidence session of the committee's inquiry into social mobility in the transition from school to work.
Moving on to apprenticeships, Lady Morris queried whether the government would meet its 3m starts target with, for example, 80 per cent of learners at level two.
Mr Boles (pictured below right) was quick to highlight the value of level two apprenticeships, saying: "I just do not accept that innately a level two apprenticeship cannot be high quality."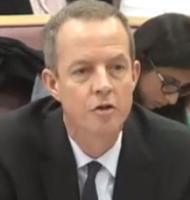 He added that under the new standards all level two apprenticeships will meet baseline requirements, which means an apprenticeship must be a job that lasts for at least a year, with an employer and a minimum of 20% off the job training.
"If you talk to builders – if you took away the level two in plastering or brick laying or site carpentry it would be devastating, not only for the industry which has a desperate need for skills, but actually for a lot of the young people, he said.
"While of course you'd much prefer every young person to sign up for a level three from the get go; some aren't ready."
Mr Boles also said that he was actually concerned about maintaining level two numbers once the levy on large firms was introduced because, he said, employers would be able to spend more of their levy voucher entitlement if they opted for higher level programmes.
"If you're an big employer and you're playing a huge levy bill there no way that you're going to be able to employ enough level two apprenticeships to use up your levy," he said.
"To some extent this makes us slightly worried about out 3m target … obviously if you ended up with everybody just offering higher and degree apprenticeships we would be hard pressed to be creating 600,000 a year."
However, he concluded that the government remained confident that the "combination of measures" it is taking will mean targets are met.
Commenting on what was said in the session, Shadow Skills Minister Gordon Marsden said that building level two has traditionally been an important factor for apprenticeships in a number of areas.
"The same is true of parts of the service sector – hospitality, leisure and related qualifications – and that is a view that has been expressed by employers and sector skills representatives in the past," he said.
"However it is important that qualifications can be progressive, that they are properly monitored and examined, and that they genuinely equip people with broad as well as specific skills.
"Maintaining the essence and progression of the content of current level twos, even if the label is altered, may be another route forward."