Apprenticeships are not vehicles to validate employees' existing skills – our inspectors want to see that apprentices are learning something new, says Christopher Jones
A sign outside a shop in my local market town reads: 'the only constant in life is change'. I usually ignore such nuggets of wisdom, but this one stuck with me.
As we approach a significant milestone in the funding of apprenticeships, reflect on the new roles for employers, review the list of approved apprenticeship training providers, appraise the detail of apprenticeship standards, and await the official launch of the Institute for Apprenticeships (and Technical Education), it is clear that change is all around us.
In Ofsted's 2016 annual report, her majesty's chief inspector highlighted the increased proportion of apprenticeship programmes found to be 'good' or 'outstanding', but acknowledged that 37 per cent of those inspected were less than good.
Apprenticeships work best when training providers and employers ensure that the structure and delivery of the programme helps apprentices meet exacting standards and contribute to the growth of the business. The best employers provide their apprentices with consistent support and effective training, both on the job and away from work, to ensure their success.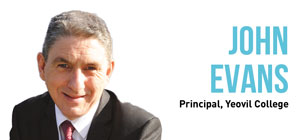 Here at Ofsted, we currently have 32 apprentices. Some are working at level two and others at level three. We offered our apprentices a permanent role from the first day of their programme, making a genuine commitment to their development and future career. As an organisation we are committed to social mobility, so during the recruitment and selection process we focused on the apprentices' skills and potential, rather than their previous academic achievements.
All of our apprentices are proving to be dedicated and valuable members of the team.
We know from our inspection findings that too often employers do not know enough about the requirements of the apprenticeship programme or the quality of the training. And, in some cases, they are concerned that the off-the-job training provided does not enable apprentices to develop the skills they need. We need to ensure that apprenticeship provision is of the highest quality so apprentices can thrive and businesses can benefit.
Changes to the funding of apprenticeships may encourage more businesses to consider developing their existing employees through an apprenticeship. But remember, apprenticeships are not vehicles to validate employees' existing skills.
It's vital that employers and training providers ensure these apprentices learn new skills and gain the knowledge that will help them to earn a promotion, take on more responsibility, contribute to increased productivity, or get a payrise.
We know apprenticeships are switching from frameworks to standards, and while recruitment to standards-based apprenticeships has increased significantly, they still account for just three per cent of apprentices who began their training after September 2016.
Too often employers do not know enough about the requirements of the apprenticeship programme
Currently, around 95 per cent of apprenticeships are at level two and level three, but over a third of the standards that have been developed are at level four and above. The slow development and approval of standards for the majority of apprentice job roles means that providers may have some apprentices on frameworks and some on standards for the foreseeable future.
So what does this mean for inspection? Rather than change, it is business as usual for Ofsted. Regardless of the format of an apprenticeship programme, our inspectors want to see that apprentices know something new, can do something better, are able to work on their own, and can make independent decisions as a result of their training and learning.
We want to see that employers and providers have structured their training programmes to ensure that apprentices can achieve the very best of their potential. So while we might well see change all around us every day, when it comes to inspection, we will simply keep calm and carry on.
Christopher Jones is HMI specialist advisor on apprenticeships at Ofsted