A senior academic has said apprenticeship levy plans were like a "nuclear weapon — it may be worth threatening you are going to use it more than actually use it."
Professor Ewart Keep (pictured below right), director of Oxford University's centre on skills, had told the House of Lords Social Mobility Committee he was "very surprised" by the government announcement in June of plans for the apprenticeship levy.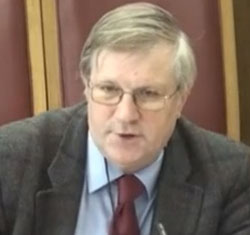 He said: "What worries me is with firms that have not previously had apprenticeships before, but will fall inside levy payments — certain sorts of private training providers will say to them, you are now paying the levy, let's see how we can work with you to gain the system to get some of your money back for training that you might have been doing anyway."
Professor Keep added: "I fear that, particularly as it is really tied to the government's 3m apprenticeship target [by 2020], what we will see is quality will be sacrificed for quantity.
"My general expectation is that when push comes to shove and there is any indication that the target won't be met, quality will get traded off."
Professor Keep's comments to the committee, which is investigating the transition between school and work and its impact on social mobility, follow widespread sector concerns about apprenticeship quality as reported in FE Week.
Such concerns have been raised, for example, by the Department for Business, Innovation and Skills consultation on the proposed levy, which raised the possibility of allowing employers to use providers not subject to an approval system or even Ofsted inspections.
And although Skills Minister Nick Boles has outlined his view that employers' apprenticeship levy money could only be spent on Skills  Funding Agency-registered providers, and that Ofsted would have a continued role in inspecting them, his shadow, Gordon Marsden, has also expressed concern about falling apprenticeship success rates.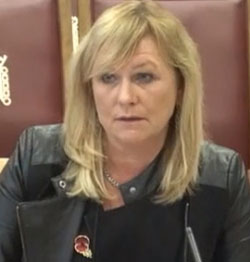 However, Tanith Dodge (pictured left), HR director at Marks and Spencer, told the committee on Wednesday, October 14, that there was a "naivety among young people about the opportunities out there [for vocational training]."
"The whole process of applying is so important. Employers have got a big responsibility to help young people with feedback [if they don't get on an apprenticeship] for future applications," she said.
Nick Chambers, director of the Education and Employers Taskforce charity, agreed that "more could be done with applications for apprenticeships".
"A lot more are going to older workers and not younger people," he said. "Things like helping [young people] with a mock interview or a CV can make a real difference."
Emma Codd, managing partner for talent at Deloitte, also said during the hearing: "Businesses have to put in the time to show people who go in at level two how they can progress [to higher level apprenticeships]."
The committee is expected to have at least two further evidence sessions — on October 21 and 28 — before reporting its findings by March 23.
Witnesses for future evidence sessions are yet to be announced.