Conservative manifesto pledge: Introduce significantly discounted bus and train travel for young apprentices
Verity O'Keefe argues AGAINST
The manifesto pledge to support apprentices with discounted train travel is hard to argue against –but does it go far enough?
We think not. The pledge seeks to solve the problem of young people being put off from taking an apprenticeship because they can't afford the associated travel costs. However, the real issue stopping many young people signing up for apprenticeships is the paltry wage rate of just £3.50 per hour.
If the next government really wants to put apprenticeships on the map and demonstrate to school leavers that they are a viable, credible career pathway to quality employment, they must pledge to raise the apprentice pay immediately.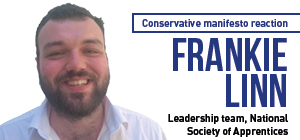 Boosting apprentice pay is something EEF, the manufacturers' organisation, has called for in its recent submissions to the Low Pay Commission. We see a strong argument to protect the apprenticeship brand and safeguard quality admissions by increasing pay, alongside other incentives to attract more candidates such as the proposed discounted travel initiative.
Governments have never set out what they mean by quality when it comes to apprenticeships but we think it can be done. Quality should be determined on the positive outcomes achieved: long-term employment, opportunities for career progression, salary thresholds. Importantly, these are influenced by factors during the apprenticeship, including the length of the apprenticeship, the level of training and what is paid to the apprentice during training.
So to what would we increase pay? The age-specific minimum wage rate. Such a move won't complicate matters, it will simplify them. And what employer wouldn't want an easier life after the raft of apprenticeship reforms, in particular the apprenticeship levy?
The apprentice rate is currently set at £3.50 per hour, applying to apprentices under the age of 19 or in the first year of their apprenticeship. Any apprentice outside these parameters is paid their age-specific rate.
This is easy to understand if the apprenticeship on offer is 12 months long, where no matter what age the apprentice, they are entitled to £3.50 per hour. Not so easy when your apprenticeship, as is the case in engineering, lasts for four years. An apprentice starting aged 25 would be eligible for £3.50 per hour their first year, but that would increase to £7.50 per hour in the second year when they become eligible for their age-specific rate.
Increasing pay could attract better quality candidates
So why not make it easy and simply pay apprentices their age-specific rate from the start? Those employers that do recruit apprentices aged 16 would pay £4.05 until they turned 18, which is not a huge hike up from the current apprentice rate.
And if the apprentice rate is to do what it was set out to achieve at its introduction – strike the balance between a minimum wage level that prevents the exploitation of apprentices and wage costs being so high that they reduce the opportunity for employers to offer young people training and employment – then this is a fair argument.
But it's not just about making things easy. Increasing pay could attract more and better quality candidates to take apprenticeship vacancies. We know manufacturers plan to increase apprenticeship numbers, and the levy will undoubtedly lead to other employers doing the same, however this will come to nothing if it is not met with demand.
Of course there are major challenges to tackle careers provision in schools and move parents away from the mind-set that apprenticeships are for other people's children, but increasing pay is surely an attractive selling point?
Our own pay benchmarking data and previous government apprentice pay data reveals that pay for engineering apprentices is almost double the minimum rate. On top of that, apprentices in engineering are more likely than others to receive bonuses as they progress on the learning pathway. We know pay is not the problem in our sector. Our industry needs to shout louder that pay in manufacturing and engineering is higher than average, but in addition we also need to lose the tagline that the apprentice rate is still just £3.50 per hour.
So, by all means offer discounted travel for apprentices, but a real boost to apprentice pay would more than pay for the bus.
Verity O'Keefe is head of Education & Skills Policy at EEF the manufacturers' organisation