Former presidents of the Association of Colleges (AoC) have welcomed the election of John Widdowson (pictured above) as next year's president and offered their advice to him on the role.
Mr Widdowson, principal of New College Durham, will take over the AoC role on August 1 from Exeter College principal Richard Atkins, who said Mr Widdowson would "work tirelessly to get the best deal for colleges".
FE Commissioner David Collins, who was the first AoC president, was among those who offered their tips for the job.
"Being president of the AoC isn't easy at the best of times but John is coming into the role when colleges are facing exceptional pressures," he told FE Week.
"My advice would be to continue to emphasise the key role the sector plays in supporting the country's economic and social development and to continue to push hard for colleges to play an even greater role in this regard in the future.
"More support to enable colleges to deliver higher levels of technical education independently of the university sector would be particularly welcome."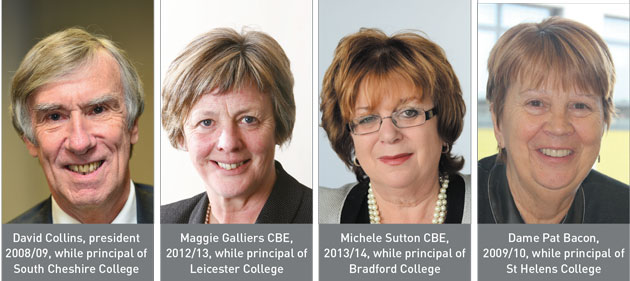 To be president of the AoC and run a college at the same time you need "stamina and resilience" according to Maggie Galliers CBE, and "organisation" said Michele Sutton CBE.
You also need to be able to talk to ministers, policy makers, and foreign dignitaries, "as though you do it every day of the week", said Dame Pat Bacon.
Ms Galliers, current chair of governors at City College Coventry, said: "My advice would be to pace yourself and prioritise well so that all parts of what you're trying to achieve are getting the right level of attention."
Bournville College principal Ms Sutton and South Cheshire College governor Dame Pat both urged Mr Widdowson to enjoy the presidential experience.
Ms Sutton said: "Enjoy the opportunity and be prepared to speak your own mind — which I know John will."
Dame Pat said: "It's tough — I've
never worked harder in my life than I did that year. But take the opportunities as they come because every year is different because it's a different point in the political cycle."
One experience all incoming presidents appear to dread is the president's speech opening the AoC Conference, when, as Ms Sutton put it "there's going to be a thousand people sitting in the hall waiting for pearls of wisdom".
Dame Pat's advice for the speech was to "take advice, but do it with an individual approach". "It is your one opportunity to put your stamp on the presidency and how you're going to do it," she said.
Mr Widdowson said: "I want to help the Association of Colleges secure a positive future for further education, confronting the practical issues we face and sustaining the values and vision that colleges represent."