The Association of Employment and Learning Providers (AELP) has questioned the sense of forcing resits on learners who fail maths and English GCSE after the pass rate fell for 17-year-olds.
The 2014/15 academic year was the first in which learners who previously had not achieved a grade C in either subjects, but had continued onto post-16 study, were required to either resit their GCSEs or equivalent level functional skills exams.
It is a key reason why the number of 17-year-old learners across FE and schools who sat maths GCSEs increased 30.2 per cent from 100,587 last year to 130,979 this year, while the number sitting English rose by 22.9 per cent from 79,045 to 97,163.
Meanwhile, the A* to C pass rate for that age group fell from 38.9 per cent last year to 35.8 per cent for maths, and from 37.9 per cent in 2014 to 35.1 per cent this year for English.
An AELP spokesperson said that this fall strengthened its view that more post-16 learners who failed maths and English GCSE first time round should do functional skills instead of GCSE resits for FE and skills courses.
Paul Warner (pictured above), AELP director of employment and skills, said: "At the moment there's a bit of an assumption that the government considers GCSEs as the be all and end all when it comes to resits, which is why so many learners on FE courses are made to do GCSEs when there are other options such as functional skills that may be more suited to them.
"The fall in the pass rate for 17-year-olds suggests that a lot of people who are being made to resit would be better off taking another route."
At present, learners who get a D for maths and English GCSE first time round have to keep resitting GCSE exams throughout their FE courses until they pass.
Learners who get below a D can take functional skills exams instead.
The Department for Education (DfE) confirmed today that this will continue in 2015/16.
However, Mr Warner said: "We are not anti-GCSE, but I think in a number of cases, learners who get a grade D might be better off taking another option for English and maths.
"AELP training provider members engage with thousands of employers every day with the running of apprenticeship and traineeship programmes.
"Many of these employers are now happy to recognise functional skills for English and maths as an alternative to GCSEs because they provide the applied skills which the apprentice or trainee needs to do their job."
Martin Doel (pictured right), chief executive of the Association of Colleges, said: "We would urge the government to work with closely with employers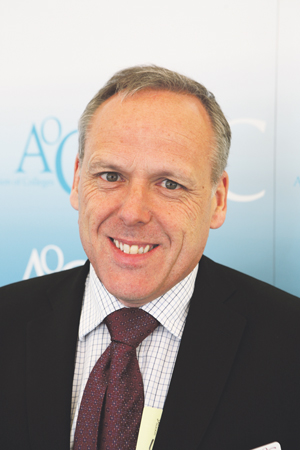 and colleges to ensure maths and English qualifications reflect the workplace and everyday life."
He added: "Colleges supported an increased number of young people re-sitting GCSE English and maths this year with a third of students over 17-years-old achieving an A* to C grade.
"It is a great result for those thousands of students who've spent time re-sitting these exams.
"It is important for everyone to achieve a good standard of spoken and written English and the ability to do simple calculations but GCSEs aren't suitable for everyone.
"Congratulations to all students who received their GCSE results today and whatever the grades, there are a host of options open to them and they should calmly assess their personal situation, look at what they want to achieve and decide on the best route for them."
A DfE spokesperson said: "Post-16 schools and colleges are making good progress in ensuring all 16-19 year olds are given the opportunity to achieve good GCSEs in English and maths by age 19.
"For the 2014/15 academic year, we know the vast majority of colleges enrolled nearly all their students without A*- C GCSE on approved English and maths courses."
y all their students without A*- C GCSE on approved English and maths courses."