Rishi Sunak today pledged to replace A-levels and T Levels with a new Advanced British Standard.
So what does this all mean? Here's your FE Week explainer.
1. What is the Advanced British Standard?
Documents published after Sunak's speech (read them here) say the Advanced British Standard (ABS) is a "new Baccalaureate-style qualification" for 16 to 19 year-olds "that takes the best of A-levels and T Levels and brings them together into a single qualification.
This is because the current "traditional parallel structure of A-levels and technical qualifications has constraints", such as "limiting the breadth of young people's education and prevents full parity across technical and academic routes".
2. A-levels and T Levels scrapped – but would take TEN YEARS …
Yes, both A-levels and T Levels as individual qualifications would be replaced.
Under the ABS, most students would instead study a minimum of five subjects at different levels – either major or minor (so for instance, three majors and two minors).
But the intention is to make "majors" have the "comparable depth and rigour to A-levels (with at least 90 per cent of the content) so that they support progression, including to university".
BUT BUT BUT. This is obviously all dependent on the Conservatives overturning the odds to win the next election.
And either way – the "long-term reform" would "take a decade to deliver in full", documents state.
3. … however consultation soon and white paper next year
But plans are afoot to make some progress before the expected election later next year.
Government said the huge overhauls would "need careful development, in partnership with students, teachers, leaders, schools, colleges, universities and employers, as well as the public".
They promised to "consult extensively, and in detail, over the coming months on the design of the new qualification".
There will also be a white paper next year setting out "our plan for delivery".
4. Post-16 studying time will be increased …
Under the plans, post-16 students would spend more time in the classroom, with a minimum of 1,475 taught hours over two years.
Currently, a typical A-level student in England studying three subjects is taught for 1,280 hours and a technical student for 1,000 hours.
5. … and £30k bonuses to recruit more teachers
But where will all the teachers come from (we hear you ask)?
Government will invest £600 million across the next two years to help boost capacity, including around £100 million each year to double the rates of the levelling up premium payments to teachers.
That means teachers in eligible shortage subjects in the levelling up areas will get £30,000 tax-free bonuses over five years. This will also extend to further education colleges.
"Delivering our new approach will rest on there being enough great teachers in every school and college, and this downpayment is the first step to ensuring that there are," documents state.
6. 'Major' and 'minor' levels at 16-19 …
A bit more detail on the new qualifications that would make up the ABS…
So students would take a minimum of five subjects, but in some cases this could be four if they choose "to focus on a specific occupation".
There will be potential for "further 'stretch'" for those who want to take four majors – similar to the four A-levels now.
Those that want to take a primarily technical route such as structural engineering could study a "major in building service engineering and a double major in gas engineering, and minors in maths and English".
Students wanting to keep a primarily academic route could, for example, study "three majors in history, French and English, alongside minors in maths and geography. Or, they could study mixed disciplines: majors in business, geography and maths, alongside minors in English and marketing."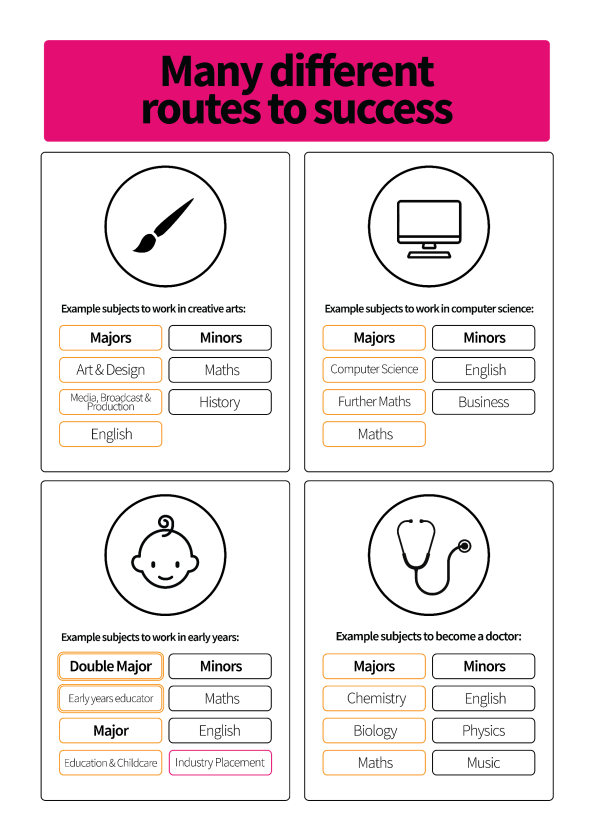 7. … with maths and English requirement 'to at least minor level'
DfE says they will "ensure that everybody has to study maths and English to the age of 18".
It will be delivered in "different ways for different people" – for some it will be a "major" like an A-level, while for others it will be a "minor" like the current core maths qualification.
On core maths, DfE says it "will strengthen and support as part of the pathway to these reforms".
For others, "it will be about acquiring the basic English and maths they need to succeed in work and life". DfE will explore if an "essay-based subject" could work for English.
DfE will also expand the teaching for mastery method for better maths teaching.
8. Grading to be 'carefully considered'
DfE said it will also have to "consider carefully how to design the grading that students will receive".
Currently, the letter system is used for A-levels in England and pass, merit and distinction grades are awarded for VTQs.
DfE said any grading will have to make sure employers and universities can understand a students achievement "both across the whole qualification and in the most relevant subjects to them, and can make the right decision about what is next for them".
9. GCSEs could also be 'streamlined'
Ministers are looking at what improvements can be made to GCSEs.
They say the year 11 tests can be "onerous for students and teachers, which can detract from the time available for teaching and learning time" so they will look "at where they can be streamlined while still retaining their inherent rigour".
Things being considered include whether to reduce the number and/or length of papers that children sit to save time spent on exams and on marking.
The second is "adopt digital solutions, such as on-screen assessment, which would open up new possibilities and allow us to assess performance in more innovative and less onerous ways".
10. Level 2 pathway with more teaching hours
Students not yet able to progress to the level 3 Advanced British Standard will be offered a dedicated pathway at level 2.
There isn't a specially branded new qualification outlined in today's announcement, but level 2 students "will have access to the same number of minimum hours – and high-quality teaching – as the level 3 pathway."
Reforms to remove and improve qualifications at level 2 and below will proceed as planned.
The department said there will also be a "clear offer" with extra teaching hours for students studying below level 2, including those with SEND needs.
11. £150m for GCSE resits
DfE is committing an extra £150 million each year to support those that don't pass GCSE English and maths.
They say it means "that if a student is retaking English and maths GCSE while studying at level 2 or below on their 16-19 course, they will now attract the same funding as those studying at level 3".
And all apprentices who have not gained their level 2 English and maths qualification will have their funding rates lifted to match the adult education budget – which represents a 54 per cent increase on the English and maths funding currently available to apprentices.
Funding to colleges and schools will be increased "so they can deliver maths to more students aged over 16".
12. £40m for EEF to expand post-16
The cash will also include £40 million for the Education Endowment Foundation to expand its focus to post-16.
Documents stated: "EEF will act as the independent authority on creating and sharing evidence for teachers and leaders on what works to support outcomes for 16-19 year-olds, with a particular focus on approaches that work best to narrow gaps in attainment."
Another £60 million over the two years will "improve maths education, including through: expanding teaching for mastery approaches across the country, using our Maths Hubs; and increasing access to Core Maths through provider incentives and an expanded digital tuition platform".