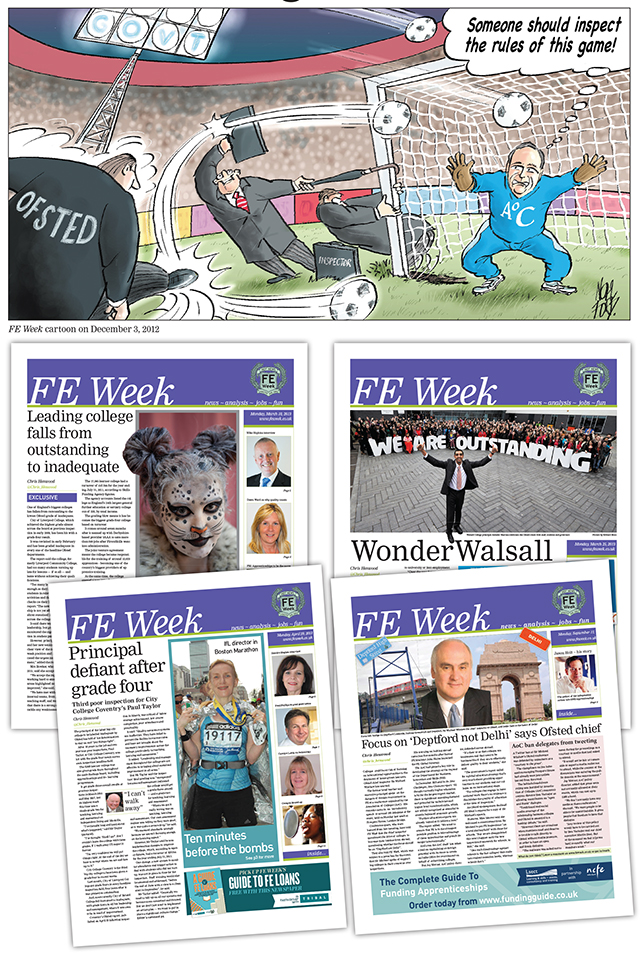 It has been a year in which Ofsted stories have hit the front pages time and time again — starting back in September last year with Sir Michael Wilshaw's "Deptford not Delhi" criticism.
He warned that colleges could be at risk of focusing on international opportunities to the detriment of home-grown learners.
The former head teacher and executive principal spoke on the dangers of foreign recruitment in FE at a conference organised by the Association of Colleges (AoC).
His remarks came in an introductory speech to around 160 delegates at event held in London Bridge.
And in December, AoC chief executive Martin Doel accused Ofsted of "moving the goalposts" for colleges following a damning annual report that pointed to a threefold increase in the number of colleges judged inadequate.
Mr Doel hit out after the education watchdog's report highlighted how 13 colleges received the lowest possible grading in 2011/12, compared with four the previous year and how, for the second year running, no college achieved an outstanding grade for teaching and learning.
"Colleges are delivering what government has asked of them and we are interested to discuss how college performance might be better reflected in a wider basket of measures," said Mr Doel.
"But if the goalposts are being shifted by Ofsted, we at least need to know the rules of the new game. A fair and transparent inspection regime makes an important contribution to this process."
Three months later one of England's biggest colleges fell from outstanding to the lowest Ofsted grade of inadequate.
City of Liverpool College, which achieved the highest grade almost across the board at previous inspection in early 2009, was graded inadequate in every one of the headline Ofsted fields.
The report said the college, formerly Liverpool Community College, had too many students turning up late for lessons — if at all — and leave without achieving their qualifications.
Principal Elaine Bowker said: "We accept the report and are working hard to ensure that the areas highlighted as inadequate are improved."
But things were looking up for the sector at the end of the month when Walsall College became the first general FE college to achieve an outstanding grade under Ofsted's tough new inspection regime.
The West Midlands provider won glowing praise and its success meant the college was also the first to get a published Ofsted report with outstanding for teaching and learning — a field that, under the common inspection framework, limited the overall grade.
However, in April FE Week reported another shocking Ofsted inspection. City College Coventry was hit with an inadequate grade four result across each inspection headline field.
The 8,000-learner college was also given grade fours throughout the main findings board, including apprenticeships and 19+
learning programmes.
Despite initially vowing to "stay on and put things right", college principal Paul Taylor announced within weeks that he would be leaving.