The budget offers important steps in the right direction but, with the current policy churn in FE, we need to make all these initiatives join together in a coherent way, argues Kirstie Donnelly
If you go on numbers alone, it was a good budget for the FE sector. The word "skills" appeared 11 times in the chancellor's statement and a further 33 times in the red book. Philip Hammond announced a series of measures designed to, as he put it, ensure "that our workforce is equipped with the skills they will need for the workplace of the future".
It's certainly welcome to see skills development get the focus it deserves. From Hammond's pledge of additional funding to help teachers prepare for T-levels to the £34 million investment in construction training, these are important moves that have the potential to make a real difference. While we lack much detail, a National Retraining Scheme in partnership with the TUC and the CBI suggests to me that the government is taking the issue of skills gaps and shortages seriously. Next week the long-awaited industrial strategy will be published, hopefully providing further detail on some of these measures.
Next week the industrial strategy will hopefully provide further detail
I was pleased to see the chancellor respond to Sir Adrian Smith's recommendation about improving access to core maths qualifications at level three, with the £600 premium for schools for every extra pupil who takes it.
No one would argue with the fact that numeracy is an essential skill both for success in the workplace and in life, but GCSE and A-level maths aren't the only measures of competency. Yesterday's announcement signals a welcome move away from this type of thinking, so now is the time to start promoting core maths as a real alternative. I hope that there will be equal open-mindedness about maths options at 16 to stop the wasteful cycle of GCSE retakes.
It was also positive to see the chancellor acknowledge that the apprenticeship levy is a work in progress, with his commitment to working with employers to make it "effective and flexible". As we know, business reaction to the levy has been mixed, and figures have shown a 61-per-cent drop in apprenticeship starts year on year. This is a huge worry and we need to consider how best to ensure the levy achieves its goals. One change I hope the chancellor will consider is broadening its remit to cover funding for upskilling and reskilling existing workforces, or to provide real work experience.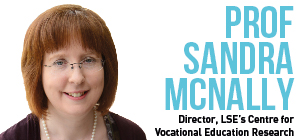 Overall, the budget has important steps in the right direction. But there's a caveat: there's an awful lot in the pipeline on skills, from digital training to plans to tackle STEM shortages. As well as the industrial strategy, we are imminently expecting the careers strategy, along with a discussion paper as part of the response to Matthew Taylor's review.
It's wonderful to see so much enthusiasm for reform of provision, but we need to make sure the basics are in place and that all these initiatives join together in a coherent way. As our 'Sense and instability' review of 30 years of skills policy found, Britain has experienced consistent policy churn to little gain.
Policymakers have repeatedly failed to learn from history and prized short-term change over getting the skills system right in the long-term. Trying to do everything at once, without allowing changes the time to bed in, is misguided. If the measures announced this week are to achieve what they are meant to, we need collaboration and consultation with the wider delivery sector and for policymakers to think about the bigger picture, rather than rushed action across the board.
Investment in skills is smart at any time, and it's especially critical right now, with so much uncertainty around Brexit. Let's hope the chancellor's plans can make the difference – so we should all work together and using our collective expertise to make sure they do make that difference and have long lasting impact.  
Kirstie Donnelly is managing director of City & Guilds